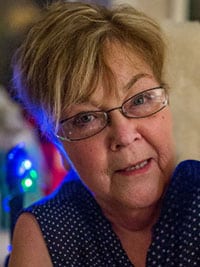 Wendy Louise (Playdon) Moger
February 1, 1956 – February 16, 2019
Wendy Moger passed away peacefully, surrounded by family, after a brief illness but a long battle with MS.
Along with daughter, Sarah, son-in-law, Zach, grandsons Evan and Elliott, Wendy's great loves were anything to do with horses and dogs. Wendy touched many lives be it through her association with Weight Watchers, dog training, or the riding arena.
She was a caregiver and advocate for many. Also left to remember Wendy are sisters Joyce, Carol and Susan, brothers Ralph and David, and many nieces and nephews.
In accordance with Wendy's wishes, an Open House will be held Saturday, March 16th at the Stony Plain United Church, 5012 51 Ave, between 2 and 4 pm.
In lieu of flowers donations may be made to the Edmonton Humane Society.