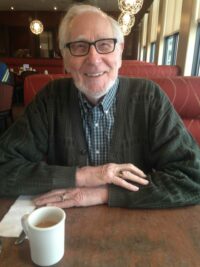 Willem Coenraad Vankeeken
October 19, 1925
-
October 22, 2021
Beloved by many, Willem Coenraad (Bill) VanKeeken went to be with his Saviour and his beloved wife Rosemary, who predeceased him by 16 years, on 22 October. He leaves behind two stepdaughters and a stepson and many grandchildren and great grandchildren across Canada who lovingly called him Opa or grand Opa. He had a full and rich life filled with family, adventure, friends and faith.
Born on 19 October 1925, Bill was the last of five boys born to his parents in the small Dutch town of Heemstede in the Netherlands. Near the end of the Second World War, he was captured by the Nazis as a teenager and shipped to a Luftwaffe airfield in Germany to work as a slave labourer for the nine remaining months of the war. Some months after returning home, Bill was drafted into the Dutch army and shipped to Indonesia where he spent almost four years in combat zones during that country's war of independence.
Once he returned from overseas service, Bill married his first wife, Caroline. In 1953 they moved to Canada. He was able to get a job working in a sheet metal shop, fabricating heating ducts for the new homes in rapidly growing Toronto, working his way up to shop foreman.
By the mid-1960s Bill's first marriage dissolved and in 1969 he married the love of his life, Rosemary and they remained devoted to each other until her death 16 years ago. Three children came with her, though by then the two oldest, Marieken and Marianne had already married. He treated them all as his own. Bill and Rosemary moved to Vancouver with their son Daniel in 1972, where Bill at first got a job in the shipyards of North Vancouver and ended his working life with seven years in the maintenance department of Shaughnessy Hospital in Vancouver.
Bill and Rosemary loved to renovate whatever house they were living in---and they lived in many---and travelling by car or train. Their favourite holidays were cross-Canada trips on VIA Rail, and they did it so often they even got the occasional free trip. They were also proud of their growing brood of grandchildren and enjoyed family visits.
In 1997, Bill and Rosemary moved again, this time to the small city of Camrose in central Alberta, an hour outside of Edmonton. They quickly grew to love its small-town charms and friendly people, and often explored the Alberta countryside on long drives. They ultimately joined the small Gwynne Community Church, where Rosemary played the organ and Bill became an elder and loved being first at church on Sunday to greet everyone. They made many lifelong friends at the church and in Camrose, and after Rosemary's death Bill could be found at a local Tim Horton's in Camrose most mornings with a few of his friends.
Bill moved to an apartment in Camrose after Rosemary's passing and lived there until he was 92, when health issues saw him move to a senior's lodge in Edmonton. He quickly became a favourite with staff there, always smiling and joking with them. His mind remained sharp almost to the end even as his hearing and sight deteriorated, and he still kept up with the news and his favourite TV programs. Fondly remembering his storied past, he enjoyed reminiscing and the occasional drive or family dinner.
He slipped away quietly in his sleep on 22 October and will be dearly missed by his many friends and family. His positive attitude and sunny disposition, his jokes and his wisdom were an example to many.