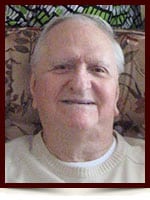 William (Bill) Pendergast
PENDERGAST, WILLIAM CECIL (BILL)
Bill Pendergast of Edmonton, Alberta, passed away peacefully at the age of 82 on Thursday, January 1st, 2015. Bill is survived by his wife of 60 years Phyllis, daughters Leona and her husband Charlie Sharman; and Dianne; grandson Scott and his wife Alexandra; and his great-grandsons Elliot and Felix. Bill was born in Innisfail, Alberta on May 10, 1932 to William and Viola Pendergast. He was one of seven children; predeceased by his siblings Verna, Lena, Hazel, Iris, and Ken, and brother-in-laws Richard, Kenneth and Keith. He is survived by his sister Lorna and her husband Hank, and sister-in-laws Doris, Helen, Sharon, and Shirley and many loving, nieces, nephews and extended family.
Bill was a passionate man who enjoyed music and spending time with friends and family, and most especially children. Bill was affectionately known to many in the church and community as "Grampa Bill". Special thanks to Dr. Randy Naiker for taking such good care of Bill.
Funeral Services
Beulah Alliance Church  17504 – 98A Avenue
Wednesday January 7th, 2015 at 1:30 PM
Because of Bill's great love of children, memorial donations may be made to the Beulah Alliance Children's Ministry.