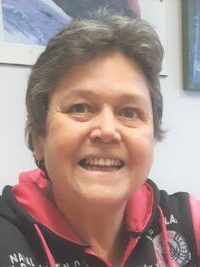 Yvonne Julie L'Hirondelle (Martiniuk)
November 9, 1965
-
September 8, 2021
It is with great sadness and heavy hearts to announce the loss of our much-loved Sister, (Mother and Daughter) Yvonne.Yvonne passed away at the age of 55 yrs. on September 8 2021, after a short battle with cancer.
She was born November 9, 1965 in Edmonton, Alberta to John and Joan Martiniuk (L'Hirondelle)
Survived by her two loving children Khyree (Sam) L'Hirondelle and Justin L'Hirondelle, her mother Joan B L'Hirondelle (Martiniuk), five sisters, Angie (Will) McKenzie, Tracy (Barry) Klask, Jamie Medows, Colleen (Drew) Martiniuk, MaryAnn Martiniuk, and her life-long friend Joe Brass.
Predeceased by her father, John Martiniuk and sister Laura Joan Martiniuk
Yvonne was a passionately warm, caring spiritual being. Her genuine sincerity reflected on her humbling spirited mannerism and trusted in all whom she had met. She would offer you the shirt off her back regardless if you needed it or not, always putting others before herself (just as her dad always did). She had a passion for drawing peoples' portraits, and often sketching bouquets' of flowers, in which she acheived high marks in her Senior years of High School. Her favorite, fun pass-time was doing imitations of a Mime....Oh, how amazing and impressive she was. She will be so dearly missed, and she will be in our hearts forever.
Funeral Service
Friday October 8, 2021 1:00PM
Trinity Funeral Home Chapel
10530 116 St. Edmonton AB.
Burial to Follow
St Michael's Cemetery
13819 82 St NW, Edmonton, AB