Traditionally, the funeral will include a family or public viewing of the deceased. Viewing of the deceased, especially by the immediate family, is helpful in the process of accepting death and an important step in the process of resolution of grief. Following this will be the funeral service, typically held in the church or at the funeral home. The service is followed by interment either below ground (Earth Burial), above ground (Entombment in a Mausoleum) or cremation.
A member of the clergy may be asked to conduct the service or, in non-religious ceremonies, a funeral celebrant, family member, or close friend is asked to speak. Often, a eulogy is delivered, hymns are chosen, special music is played, passages of scripture or poems are selected and presented, or special requests of the deceased are honored.
Personalized service folders, memorial registers, flowers, candles, portraits, collage boards, and video tributes have all become very popular in memorializing the deceased's life during the service.
---
ValueBurial®
---
$5195.00
Includes the following funeral services:
Arrangement conference at our funeral home

Registration of death with Alberta Vital Statistics

Transfer from place of death (24 Hour Service) within 100KM of greater Edmonton

Composing of obituary and free posting to our website

Conferring with clergy to set date and time of funeral service

Conferring with organist and soloist

Conferring with florist to order and deliver floral arrangements

Conferring with cemetery to order opening & closing of the grave

Conferring with Alberta Wilbert for ordering and delivery of burial vault or liner

Embalming of deceased

Dressing & personal care of deceased

Viewing of deceased at Trinity Funeral Home Chapel

Use of Trinity Funeral Home Chapel for prayer service / funeral service

Funeral directors to conduct service in our chapel, your church, or other location

Funeral home equipment: book stands, flower racks, floral spray stands, reserved seating signs, donation envelopes

Clergy & pallbearers vehicle (Suburban – leads funeral procession to cemetery)

Funeral coach (includes prayer, funeral & interment service)

Committal service at cemetery

12 statements of death

Clergy and cemetery permits

Alberta Funeral Services Regulatory Board fee
Casket Choices
The ValueBurial® option includes your choice from 1 of the following 2 caskets: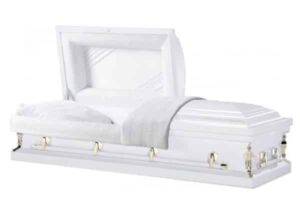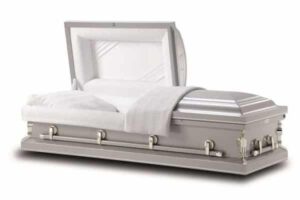 Optional Items
The following options may be added to the ValueBurial® package. Additional charges apply.
Service Obituary in Edmonton Journal or Edmonton Sun (or other publication) – Lineage rate applies. Please ask your funeral director for current costs.
Clergy Honorarium
Organist & Soloist
Stationery Package (Includes memorial book, 2 pens, 100 color memorial folders & memorial candle)
Floral Arrangements
Memorial Video Tribute