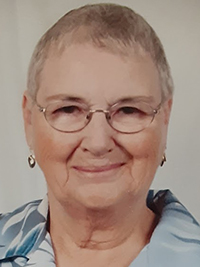 Marion MacNeil
Passed Away
June 28, 2021
Marion MacNeil, 88 of Edmonton Alberta passed away June 28th, 2021. Marion passed away suddenly at the Misericordia Hospital.
She was born to the late Alice and Ernest Hicks April 20th, 1933 in Long Branch, Ontario. Marion raised five daughters and enjoyed careers at both Page the Cleaners and London Drugs. She won many awards for her volunteer work at Britannia Junior High School and was affectionately referred to as, "Grandma Britannia". Marion is survived by her daughters, Dena (Leo) Panchyshyn, Maggi (Mike) Day, Donna Amesmann, Yvonne (Russ) Baxter, and Jennifer (Wayne) Post as well as 11 grandchildren, numerous great grandchildren and 2 great, great grandchildren. She is also survived by her brothers Brian and Barry (Vicki) Hicks and her sister, Mary Nolan. She also leaves many nieces and nephews across Canada as well as many, many friends that meant the world to her.
Marion was predeceased by her brothers, Jack, Ernie, and Bruce Hicks as well as her sister Marjorie Seawright.
Marion loved her Saviour, Jesus and always kept her friends and family in her prayers.
Special thoughts go out to the staff and residents of McQueen Lodge. She was truly at home with the helpful, friendly, staff and embraced all of the friendships she made over the years.
Memorial Service
12:00PM Saturday August 14, 2021
Steele Heights Baptist Church
5812 149 Ave NW, Edmonton, AB
In lieu of flowers please make a donation to your favourite charity.