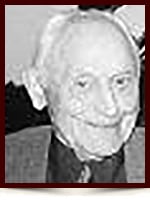 Aage Faurshou Tottrup
January 1, 1923 - Randers, Denmark - October 11, 2014 - Edmonton, AB
Aage Faurshou Tottrup passed away peacefully on October 11, 2014 surrounded by his children and grandchildren.
Aage was born in Denmark where he studied engineering. His education was interrupted by the Second World War. Aage proudly served in the Danish Resistance during the war. After the war he completed his studies. In 1949 he immigrated to Canada and began a long and successful career in engineering. He established and operated several engineering design and consulting firms. Through his professional engineering practice Aage contributed significantly to the building of many schools, hospitals and other projects throughout Alberta. He was a lifetime member of APEGGA. Aage loved the outdoors, hunting and fishing his whole life as well as puttering around on his hobby farm. He had a keen intellect and broad interests which resulted in many in-depth analyses, which he loved to share. Dad particularly loved to help us understand politics and government, which he did with great passion. Aage met and married Lois Ottewell in 1949 in Edmonton and together they raised five children.
He is survived by his first wife, Lois Ottewell, his five children, Karen (Brian Woods), Peter (Shelley Vandal), Susinn Shaler, Kiera Garner and Michael (Ying), seven grandchildren and many cherished relatives in Denmark and Canada. We would like to acknowledge and thank Maria for her loyal and kind support for dad as he aged and became less independent.
At dad's request, there will be no funeral or memorial services.