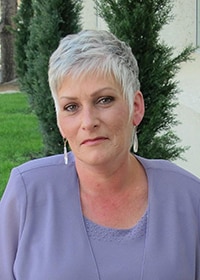 Adele Marie Simpson (née Bernard)
On Thursday, January 28, 2021, Adele Marie Simpson (née Bernard) passed away at the age of 59 years. After a long, difficult battle and constant suffering due to many health issues, Adele is free of pain and at peace, probably playing cards with her brother Terry and father Maurice, while her mother Eleanor bakes her a pecan pie. Adele will be missed and remembered by Bryan, her devoted husband and best friend of 35 years, children Amanda, Nicolas (Karen), and Chelsa, sisters Katherine (Steve) and Colleen, grandsons Michael and Luke, nephew Kyle, many cousins, aunts, uncles, and other extended family members and close friends. Adele loved animals, so we would be remiss not to mention that she is also survived by her best friends Abby, Zoe, and Cooper, granddog Winston, and nephew Koa.
Adele, a Groundhog Day baby, was born on February 2, 1961 in Calgary, Alberta to parents Maurice and Eleanor Bernard (née Askew). She grew up on Capri Avenue where she had many fond memories of shenanigans with the neighborhood kids, many of whom she remained in contact with throughout the years. She graduated from St. Francis High School in 1979 and soon after began working for Bank of Montreal. In 1980, Adele gave birth to her first daughter, Amanda, and soon after moved to Edmonton where she would stay until her passing. Despite being surrounded by green/gold and blue/orange, Adele remained a devoted Calgary Flames and Stampeders fan until the day she died.
In 1983 she gave birth to her son Nicolas, followed, in 1986, by her youngest daughter, Chelsa. Adele continued to be immensely proud of her children for all of their individual accomplishments. As a young working mother, alongside her husband Bryan, Adele was heavily involved in the Baturyn Community where she served as VP of the community league and Chair Person of several committees. Adele had to step away from these responsibilities after a series of hospitalizations due to the increasing severity of her Crohn's Disease. Throughout her adult life, in spite of her health difficulties, Adele continued to look for opportunities to give back to the community, such as fundraising to establish Kids Kottage in Edmonton. In 2011, after 31 years, Adele made the difficult decision to retire from Bank of Montreal.
Over the next decade Adele's health continued to decline, meaning that she spent most of her time confined to the house. To escape from the reality of her situation, she continued her commitment to community service by helping the fledgling Facebook group "You Know You Grew Up In Calgary When.." grow and flourish. Her goal was to create a safe space and bring people together to reminisce about the history and their personal memories of Calgary. In this community, Adele reconnected with old friends, and formed friendships with people who would become like family.
Adele's family would like to extend their sincere gratitude to Dr. Karen Bidniak, Dr. Robert Bailey, and Dr. Constance Chik, who cared for Adele and stood by her side for her entire adult life, and the doctors and nurses of the home TPN team who gave us two more years with Adele, and walked with her right to the end.
At Adele's request, no service will be held. Donations in Adele's memory can be made to Crohn's and Colitis Canada (crohnsandcolitis.ca).