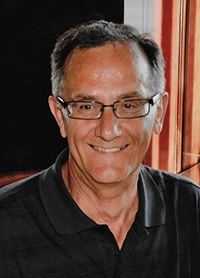 Adrien Léon Bussière
It is with much sadness and love that our family announces the passing of Adrien Léon Bussière on Tuesday, January 23, 2018 at the age of 75 years.
Adrien will be deeply missed and forever remembered by his beloved wife of 51 years, Flore and his loving children: Jocelyne (Brent) Bowman, Claude (Tracy), Miguel (Heather), Laurier (Robin) as well as 18 cherished grandchildren. He will also be missed by his brothers Hector (Diane) and Clément (Joy), sister Lucille Dubé, sister-in-law Lucille Bussière and many nieces and nephews.
He was predeceased by his parents, Émérentienne and Gérard Bussière, brothers Rémi and Arthur and one sister, Régina.
He devoted his life to his faith, his wife, his family, his friends, his community, and his vocation, sharing his joy and fun-loving nature with everyone.
Adrien had a deep faith in God, trusting that God would give him the strength to walk whatever road lay ahead of him. He was committed to his church community, serving on numerous committees in the area of administration and finances, visiting the sick, taking part in the Knights of Columbus and joining the church choir for a time.
Adrien and Flore were married for fifty-one years and were an awesome example to all their children of the sacredness and the beauty of marriage. Dad's devotion to Mom was never more evident than in the last few years. He honored her each day, enjoyed doing some traveling as well as simple things like doing household tasks together, caring for her and always treating her with respect and love.
Dad had a strong work ethic as many can attest to through his career as a teacher, his employment with the government both at the provincial and federal level. He had excellent administrative skills, was extremely organized and worked well with people. He truly enjoyed his work!
Family really was at the center of who our Dad was. He loved talking to all of us, from all of his own children to the very youngest of his grandchildren. Our gatherings at Christmas time were never quiet, always full of laughter and plenty of talking. He was a great listener, loving and compassionate who tried hard to not judge but love. One could count on his wise counsel, honest words.
He leaves behind a legacy of character, integrity and love for all of us to follow.
Dad, we have been so blessed to have had you among us for 75 years and it is hard to imagine our lives without you. Love you!
Prayer Service
Tuesday January 30th, 7:00 pm
St Vital Catholic Parish
4905 50 St, Beaumont, AB
Mass of Christian Burial
Wednesday January 31, 11:00 am.
St. Vital Catholic Parish
4905 50 St, Beaumont, AB
In lieu of flowers, charitable donations may be made to the ALS Society of Alberta (www.alsab.ca).