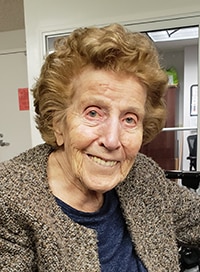 Agnes Robertson
October 25, 1921 - December 20, 2020
Agnes Robertson was born on October 25, 1921 in Calgary.  Her father, George Wood, was from Scotland and her mother Josie Mooney MacDonald was from Ontario.  Agnes was the third of seven children and the last one to pass on.
She is survived by her two sons Grant Keith and Kenneth Ian and two grandsons Keelen and Grant Daniel born to her son Ken.  Her grandsons were very special to her; she had an endearing relationship with them. 
During the war years, Agnes worked at Currie Barracks in Calgary for the air force.  Agnes married Keith James Robertson of Camrose on December 26, 1947 in Calgary. They moved to Edmonton in the mid-1950s.  Her husband fought as a navy officer in WWII.  Keith rose to Deputy Minister rank overseeing the provincial civil service.  He died in 1975 at the age of 52 from cancer.  
When her husband died, she decided to work again even though she was well provided for.  She upgraded her skills and got a job at the provincial government as a stenographer and worked until her early 70's.  Work gave her a daily routine and an opportunity to meet new people.  She enjoyed shopping downtown during lunch breaks.  She was very particular about her appearance, was always well dressed and had her hair done weekly.
Agnes was active in the community and loved to volunteer.  She was a life-long member of Robertson Church and took part in UCW activities. She also was a member of the IODE and PEO.  
Her hobbies included bridge, skating (with speed skates), gardening, curling and some golf.  She loved to read papers up to three a day and watch news television.  Her favorite topics were politics and the stock market.
Agnes had an adventurous side.  In 1971 her husband was working for the United Nations in Guyana, South America.  Agnes and her son Ken spent a year there.  This involved trips to the jungle and many social events.  In 1998 Agnes travelled by herself to Turkmenistan, Central Asia where she stayed with her son Grant and his wife Helene.  She also travelled to the Gulf of Arabia, Eastern Europe, New York, Viet Nam, and the countries of the Mediterranean.
She lived in her own home in Rio Terrace for 50 years.  At the age of 93 she was still driving and moved into independent living at Canterbury Manor.  Those were good years.  Dementia started to creep into her life and in May 2018 she moved to Canterbury Lane Memory Care where she was well cared for.   The Covid19 lockdown which started in March 2020 ended daily visits which was hard on her and her family.  In October 2020 she was transitioned to long-term care where she had her 99th birthday.  In early December she tested positive for Covid19 and died on December 20th.
Living through the Great Depression and the War years shaped her character.  Agnes worked hard, was resilient, kind to others, grateful for her good life and she could share a good laugh with others.   Agnes will be missed.