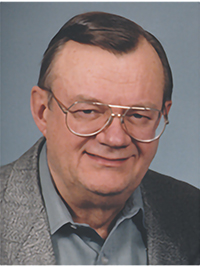 Alan Barrie Haigh
Passed Away
October 8, 2021
Alan Barrie Haigh passed away peacefully on Friday October 8, 2021 at the age of 84 at Pilgrims Hospice in Edmonton, AB.
Barrie was born on November 11, 1936 in Nipawin, SK. He grew up on the family homestead where he began his lifelong love of the outdoors. Barrie left home at a young age to begin his adventures, of which there were many. He joined the Royal Canadian Air Force at the age of 22and served in the Pinetree Line and in Europe as a Communications Technician. After the military, Barrie used his technical skills as a navigator for both US Navy ships and private shipping companies. He worked as a technician in Canada's far north in the Defence Early Warning (DEW) line, spending months on the tundra with his work partners.
In early 1969, Barrie met the love of his life Myrtle, in Ottawa, Ont. Myrtle and Barrie were married on June 6th 1969 and enjoyed 52 years together as best friends and adventurers. They were a formidable team. Barrie worked as an electronics technician for many years in several Manitoba and Alberta locations, before moving to Denver, Colorado where he was employed by Time- Warner as a Technical Writer. Following retirement, Barrie and Myrt returned to Edmonton, Alberta. Retirement to Barrie meant working part time at Lowe's, with his last work day being a month before his passing.
Barrie was a generous, kind man, and made friends quickly wherever he went. He enjoyed telling stories of his many escapades, and had a keen interest in researching family history. Barrie's two sons, Brian and Norman, and his two grandchildren, Alana and Aaron, along with Myrt, were the centre of his world.
Barrie is survived by his wife, Myrtle, two sons; Brian (Maggie) of Los Angeles, California, Norman (Shannon) of Regina, SK, stepson Todd Fenstermacher of Valley Forge, Pennsylvania, two grandchildren: Alana of Fort Saskatchewan, Alberta, Aaron of Fort Saskatchewan Alberta; three step grandchildren Paige, Lane and Parker all of Regina, SK, and one sister Rita (late Fred Wilkins) of Winnipeg, Manitoba as well as numerous extended family members.
Barrie was predeceased by his parents Orville and Marguerite Haigh, and brother Robert Haigh.
Barrie will be fondly remembered by all who knew him. In lieu of flowers, donations may be made to the Pilgrims Hospice Society.