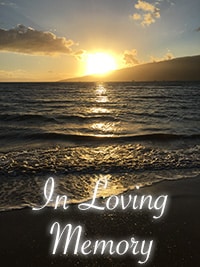 Alanna Mary Krook
Passed Away
February 20, 2021
March 31, 1956 - February 20, 2021
It is with great sorrow and sadness that our family announces the unexpected and sudden passing of Alanna Mary Krook on February 20th 2021 at the age of 64.
She was a beloved Mother, Grandmother, and friend to all that knew her. She is survived by her Brother Martin Krook her children, Daughter Kassandra L. Krook, Daughter Eleanor C. Kuzminski, Carl J. Kuzminski, Grandchildren, Jayden and Damian, and Ayla. Her niece Amanda Krook, nephew Kelly Krook and Jacob Krook.
Alanna grew up with a passion for life and always had a love of helping others and loved her pets, family, children, and grandchildren. Alanna is remembered for her strength family and her kind giving personality to help anyone in need.
Due to current circumstances, the family plans a private funeral with immediate family and friends.
In lieu of flowers, any donations may be made to Cross Cancer Institute, or to the Edmonton Humane Society and would be gratefully appreciated.