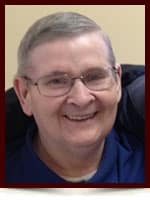 Albert Anton Latka
Albert passed away peacefully on Wednesday, February 18, 2015 at the Robbins Pavilion at the age of 74.
He is survived by his brothers, Edward, Walter (Elizabeth), Mike (Lorraine), George (Sandy) and sister Olga (Frank) Pasay, as well as numerous nieces and nephews.
He was predeceased by his parents, Hazel and Andrew, brothers John, Victor, Elmer and sisters Annie (Art) Polachuk, Emma (Paul) Krisco and Mary (Francis) Starrs.
Memorial Service
1:30PM Saturday February 28, 2015
Christ the King Lutheran Church
13111 – 79 Street, Edmonton, AB
In lieu of flowers memorial donations may be made to Christ the King Lutheran Church.
Contact Information:
[wpseo_address oneline="1" show_state="0" show_email="0"]