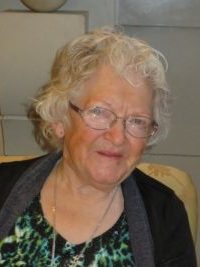 Albertje Betty Hansma (van der Deen)
Betty Hansma passed away at the age of 93 on April 4, 2019. She was predeceased by her husband Albert in 1977, her daughter-in-law Judy in 2007 as well as her brother Klaas and sister Ge in the Netherlands. Betty is survived by her son Ron of St. Albert and her daughters Pat (Mike) of Edmonton and Sharon (Dave) of Sherwood Park, 8 grandchildren and 10 great-grandchildren. She will also be missed by her sister-in-law Henny Hansma of Granum, her brother Ipe of Ontario and in the Netherlands, her sisters Hilly and Ina, brother Piet (Henny), sister-in-law Sanny and brother-in-law Henk (Sieb). Also left to remember her are many nieces, nephews and cousins in Canada, USA, England and Netherlands.
Betty loved her family and friends. She had an open door and visitors were always welcome. Her door was seldom locked and if it was, the key was under the mat!
She had many treasures and collectables that she cherished. She had a passion for her birds, dogs, rabbits, fish and numerous other species.
Betty was a strong and accepting presence in the lives of many people. She demonstrated and lived her faith in Christ her Saviour through her actions and not in words.
She was a generous, amazing and dearly loved Mom, Grandma and Oma.
On Monday, April 8, there will be a private interment at Mountain View Cemetery followed by a Memorial Service and light lunch for family and friends at 2 PM, River Park Church, 3818 14A Street SW, Calgary.
In lieu of flowers, donations will be gratefully accepted to the Clover Bar Lodge Common Living Areas. Mom spent this past year at Clover Bar Lodge and the charitable donations received will be used at their new lodge being built in Sherwood Park. Please go to www.heartlandhousing.ca and the link DONATE NOW in Memory of Betty Hansma.