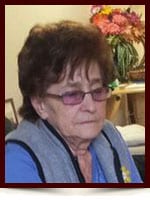 Alice Marie McPherson (nee Schmidt)
August 17 1935 – February 4 2015
It is with great sadness and much love that we say goodbye to our beloved sister, mother and grandmother Alice. She is predeceased by her son Dougie and husband Alan. Also predeceased, are brothers Benny, Bert and  sister Faye.
She is survived by her son Brian, siblings Larry, Donny, Clarence, Elaine, David, Randy and Sally Anne. She also leaves behind a legacy of 3 grandchildren, 7 great grand children, 1 great great grandchild and a swimming pool full of nieces and nephews.
Services for Alice will be announced at a later date for a celebration of life to accommodate all of her out of town family and friends.
Contact Information:[wpseo_address oneline="1" show_state="0" show_email="0"]