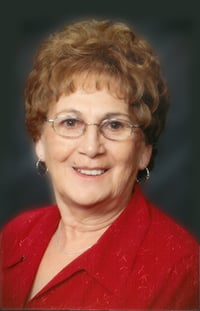 Alice Theresa Deschamps (nee Fayant)
Alice Theresa Deschamps (nee Fayant), a loving mother, grandmother, great grandmother, aunt and sister, passed away at home surrounded by her children on Sunday, May 10, 2020, at the age of 79 years old.
Alice was born on September 3, 1940, in Sputinow, AB, and moved to Edmonton to raise her children. She was an extremely hard-working woman who never sat still for long. She was well known for her baking, and her recipes will be cherished and passed down through generations. Alice is loved dearly by all her family and friends and always provided love, guidance, and support to those that needed it. The legacy she has left behind will be treasured and never forgotten. She will be greatly missed by those that know her, and our memories and her presence will live forever in our hearts.
Alice was predeceased by her parents Peter and Victoria Fayant, Sister Delores, Brothers Roy, Ervin, and Gordon. And she is survived by her sisters: Rose, Audrey, Donna, Eileen, and Brothers Gil (Audrey), Ron (Connie), Eric (Donna), and Arthur.
Forever lovingly remembered by her 7 Children: Daniel (Florence), Marilyn, Brenda (Kevin), Angeline, Ralph, Charlene (Steve), and Roxanne (James). And also remembered by her 18 grandchildren: Vicky-Jo, Mandy (Zenu), Joe (Stephanie), Starla, Daniel, Cynthia, Robert, John, Cameron (Leah), Leah-Marie (Jonathan), Tommy (Ellie), Nichole (James), Jordan, Kim, Alex, Ryder, Jamie-Lee and Bradley, along with numerous great-grandchildren and extended family members.
A private family prayer service will be held on May 15, 2020 at Trinity Funeral Home. She will be laid to rest at Holy Cross Cemetery with her mother and father. A "Celebration of Life" will be held at a later date in Fishing Lake Metis Settlement and Edmonton.