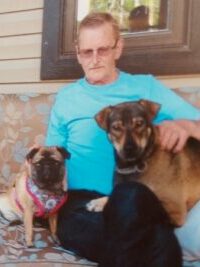 Allan Robert Perkins (Shakeshaft)
April 27, 1947
-
April 23, 2021
Allan Robert was born in Hamilton, Ontario. He was placed in an orphanage as a baby and at the age of 10 he was adopted. As a young man of 17 years he joined the Navy and found a new sense of purpose and belonging. Allan served as a cook on several ships but most memorable was the Bonaventure.
Allan began a lifelong passion for cooking in the time he served with the RCN. After serving he moved to Edmonton, Alberta to train under several top European Chefs at the Hotel MacDonald, the Chateau Lacombe, Calgary Tower and Canadian National Railway Hotel chain. Allan was the youngest man to ever belong to the Canadian Chefs Association and received his Red Seal certificate.
At the age of 27 he returned to Ontario where he connected with his brother and his mother. This is also when life changed forever, when he met the love of his life, Lorna in 1975. Together they raised 5 children, Pamela (Devern), Patrick, Michael, Amanda (MIke), Jason (Monica) and was a proud grandfather to 14 grandchildren, Crystal (Steven), Chase, Tylerr, Raylene (Matthew), Coral, Dylan, Tyler, Rebecca (Joel), Samantha (Nick), Ashley (David), Shelby (Kayden), Malaina, Emma, Alyssa. And 6 great grandchildren, Victoria, Mila, Penelope, Emmett, Isabella and baby boy.
Allan is survived by his wife (Lorna) 5 children, 14 grandchildren, 6 great grandchildren and his sister (Carol) brother (Michael) and several nieces and nephews. He is predeceased by his parents, his brother (Dave) and sister-in-law(Linda) and nephew (Michael).
Allan's legacy is his kind heart and his love for family and animals. He lived to be different from his beginnings. He made being kind his lifelong practice and he always helped others. He would give you his last dollar or run himself ragged to help others. He had a soft heart that every animal he encountered felt. He loved animals and Bonnie was his rock during the last 10 years. Their bond was so strong, she will miss him as will all those who knew him. Whether it was a sarcastic comment or a gentle rousing he was always a quick witted man. He was a keen reader of the newspaper and loved to talk about world events.
Allan was born to be a strong willed and strong minded individual and although the last years may have looked different those who know him know how long he fought. He fought till the very last moment. Allan's battle with cancer ended April 23, 2021. He will be be missed by many but he will never let us go.
Dad was very impressed by "Amy's House" and if you would like to donate to a cause in dads memory I believe that is the place he would pick.