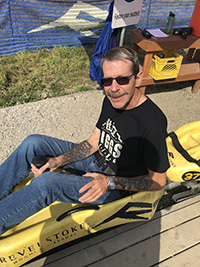 Allen Maurice Biggs
January 7, 1953
-
March 25, 2022
It is with great sadness that the family of Allen Maurice Biggs announces his passing on March 25th, 2022. Allen leaves behind to mourn his loss, his loving family; sons Shawn and Ronnie, daughter Nicole and his wife Jacqueline.
Allen was a good man who made many friendships over the years. He worked many jobs over his life, in many different industries. He found most of his relationships in the display industry and built many friendships through his many years of hard work there.
In the mid 90s, he met Jacqueline whom he'd have a son with. Things weren't always perfect and they had to move apart for several years, but for the good of their son they stayed in contact with each other and did what was best for him. Allen was an incredibly unselfish man and always put his family before himself. Making countless sacrifices over the years, including raising a son all on his own. After his love of his family, he loved the road, working for many years in long haul trucking. Despite for being on the road for ten days at a time, he always found his way home and made time for the ones he loved. And no matter where he found himself on the road, he always stayed in close contact. Calling or texting them every night. He loved The Rolling Stones, being on the road, and, most importantly, his family.
There will be a service in the summer of 2023, please watch for date and time closer to next spring.