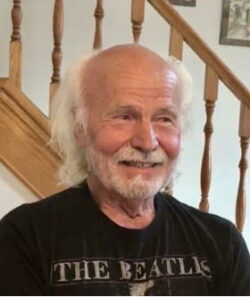 Alvin Giesbrecht
May 25, 1941
-
May 30, 2023
It is with profound sadness that the family of Alvin Giesbrecht, formerly of Winnipeg, announce his peaceful passing on May 30, 2023, at the age of 82 years.  Alvin passed away at the Roozen Family Hospice Centre in Edmonton, Alberta.
He will be lovingly remembered and forever missed by his wife of 60 years, Carole (Teskey); children: Mark (Margaret) and Christine (Jason); as well as his adored grandchildren: Jeremy, Linus, Megan (Josh), Eric (Matt) and Dylan.  Alvin is also survived by his brother, Bob, sister-in-law, Dorothy Teskey, and many beloved friends and extended family members.
Alvin was predeceased by his adopted son Russell, his cherished parents: Abram and Mary (Rempel) and his siblings: Sue, Ann, Jake, Arthur, Elsie, Verna, Edna, Doreen, and Raymond.
Alvin was born May 25, 1941, in Morden, Manitoba, the ninth of 11 children.  He grew up in a large, Mennonite family and always treasured his Mennonite culture.  After moving to Winnipeg at age 16 to make his way in the world, he never forgot his roots in Morden and a yearly pilgrimage every fall became a tradition even after he and Carole moved to Sherwood Park, Alberta in 2014.
Alvin was a barber/hairstylist in Winnipeg for over 50 years.  He owned and operated his own shop, My Place Hair Care Centre on Vaughn Street, and maintained many clients for the entire length of his career.
He was dedicated to his craft – improving his skills continuously and adding perms, colors, and hair pieces to his repertoire.  He was not only an excellent hairstylist, but he was also a friend and confidant to many.  Alvin often spoke about how he benefitted from his relationships with his clients and how their insights on business and personal matters greatly enriched his life.  In the last days of his life Alvin spoke of how he loved going to work and that is testament to the close relationships he developed with his loyal clients over the years.
Never content to rest on his laurels, Alvin was also a real estate investor and landlord – purchasing homes which required some TLC, renovating them and renting them.  He was a jack-of-all-trades and mastered them all – always doing what needed to be done, no matter what it was.
Alvin's "fix-it" skills came in handy at the family cottage at Hillside Beach.  Over the 40 years Alvin and Carole owned "the cottage" you could walk by anytime and see Alvin working on some project or enhancement – all for the enjoyment of his family.  His efforts at making things better at Hillside Beach didn't stop at his property - as president of the Community Association at Hillside Beach he led the effort to many improvements at Charlie Wall Park, the large Picnic Shelter among other things.
Alvin also loved staying physically active and over the years competed in triathlons and marathons.  In summer you could see him riding his bike from the family home in Crestview to "the shop" downtown to put in a full day.
In 2014, Alvin decided to retire, and he and Carole moved from Winnipeg to Sherwood Park, Alberta.  Having more leisure time meant Alvin and Carole could vacation in Arizona every year as well as have trips to Puerto Vallarta, Mexico.  Alvin also pursued his passion for art – drawing and painting. He also enjoyed planting and cultivating a vegetable garden every summer.  And of course, being Alvin, he always found a project to tackle around the house – he could never sit still for long.
Alvin was diagnosed with Pancreatic Cancer in June 2022.  He was given a short time span, but in true Alvin fashion he was determined to outlive that prognosis and did so by 5 months – and was quite vital and active until the last month.  He was committed to celebrating his and Carole's 60th wedding anniversary and his 82nd birthday – having done both of those, he was ready to take the next journey.
Alvin loved Carole and their family and demonstrated his love every day. There was nothing he wouldn't do for us, and we knew that. He was a wonderful father - our North Star, our Hero, and our Rock.  He was the greatest Papa to Megan, Eric and Dylan and the best Gung Gung to Jeremy and Linus.  No amount of time with him would have been enough – we all love him that much, the loss of him is felt so deeply. We were so lucky he was ours.
As per Alvin's wishes, cremation has taken place and there will be no service.  Alvin will return to his beloved Morden and be interred in Southside Cemetery.
If anyone wishes to honor Alvin's memory, please consider a donation to Pilgrim's Hospice Society in Edmonton, Alberta (www.pilgrimshospice.com).  This organization was vital in Alvin's final days, and we are eternally grateful to the staff and volunteers for their care.
"For Many Are Called, But Few Are Chosen"
Until We Meet Again