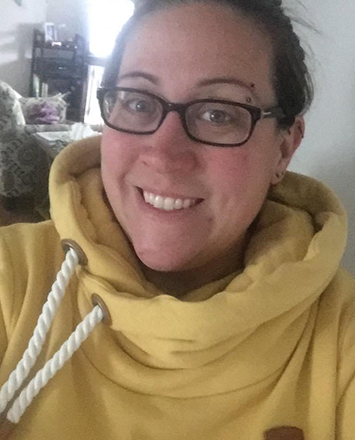 Amy Dana Kirkeby
June 3, 1982
-
March 30, 2022
It is with great sadness that we announce the sudden passing of our beloved Amy Dana Kirkeby (39) on March 30, 2022. We are also mourning Rae Lee Kirkeby who was born sleeping.
Amy was born in Drumheller, Alberta on June 3, 1982. She was the youngest of her parents Len and Alice Kirkeby's 3 children. The family would later move to Edson where Amy would grow up and graduate from Parkland Composite High School in 2000. Amy always had a passion for children and moved to Edmonton to attend Grant MacEwan University where she graduated with her Degree of Child and Youth Care in 2008. Amy then began working at the Family Centre and in 2011 started working at Catholic Social Services as a kinship care worker and later an intake worker. Amy was a woman of many talents and spent much of her time camping, crafting, baking, and gardening. Anyone that knew Amy knew her dream was to be a mother. In July of 2014 she met Denis and together they would make that dream come true with the birth of their son Ryan. This last year was the happiest of Amy's life as she got to spend it being home with Ryan and their dog Bo. Amy and Denis's excitement would only grow as they planned on welcoming their baby girl into the world. Amy was a wonderful, loving, and beautiful person. Amy and Rae will always be remembered in our hearts and no words can express the sorrow we all feel with their loss.
Amy leaves behind her husband Denis Lapointe and son Ryan Lapointe. Parents Len and Alice Kirkeby as well as her Brother Dean (Clare) Kirkeby and Sister Brandy (Lance) Kozak. As well as her in laws Ray and Deborah Lapointe. Brother in-law Greg Lapointe and Sister in-law Stephanie Lapointe. Her devastating loss is also felt by her nieces Courtney (Austin) Kozak, Kyla Rowe, Paige Kozak, Bryn Kirkeby, Brooke Kirkeby and Bailey Kirkeby as well as her nephew Owen Kozak and great nephew Emerson Dubie. She is also mourned by many extended family and friends.
Memorial Service
Thursday April 14, 2022 2:00 PM
Trinity Funeral Home Chapel
10530 116 Street, Edmonton Alberta
A GoFundMe page has been set up to help
with Ryan's education fund, those interested
can please visit the following page:
https://gofund.me/04d5b658