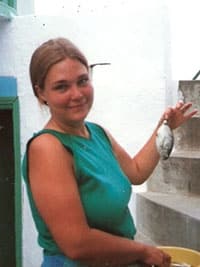 Amy Dorothea Sielaff
On the morning of March 22, 2019, at the age of 59, Amy Dorothea Sielaff slipped peacefully into eternity surrounded by her husband Bryan Bodyk, daughter Isobel Hauser, and son-in-law Dustin Hauser in her Edmonton home.
Love and compassion were the dual-cornerstones of her life. Even in the depths of her struggle with cancer she would always find words and/or ways to offer support and encouragement to those in need. She was an intelligent, warm, outgoing, and humorous woman who often gave her love and strength to a great diversity of people from many communities and backgrounds. She never turned anyone away who needed help and because of this giving and warm spirit was she beloved by many.
Amy was born in Big Bend National Park and lived in Grand Canyon, Yosemite, Yellowstone and Fire Island National Seashore before moving to Haddonfield, N.J., where she graduated high school. She attended McGill University in Montreal before settling on the Greek island of Skiathos for several years at the end of a brief tour throughout Europe.
Amy was a talented cellist, possessed a natural aptitude for learning foreign languages (recognized through numerous prizes), and was a highly imaginative, clever, and skilled writer. She had passions for cooking, reading, crafting, and was also an active MMO-gamer touching more of the world through the expression of these pursuits.
Amy was an avid fan of the Philadelphia Phillies and her favourite player, Larry Bowa. She loved popular music and saw Bruce Springsteen in concert more than a dozen times through the 1970s and 80s. Her musical tastes included everything from Jon Prine to Amy Winehouse and even Danzig, often surprising both young and old with her range of musical knowledge and interest. Amy was also a cinephile with interests ranging from the artistic indie films through more mainstream action and murder mystery. In terms of literature, she again had broad tastes ranging from Shakespeare to Agatha Christie with an especial fondness for murder mysteries and all the works of Neil Gaiman. Recently, she became enamoured with a great variety of podcasts from political and informational to the more eclectic.
In addition to her husband, daughter, and son-in-law, she will be grieved by Barbara (mother); McKinley, Rainier, and Whitney (siblings); Esme, Gabriel, Hunter, Mathew (niece and nephews); Brighid and Saoirse (daughters-in-heart); as well as the many friends and acquaintances whose hearts she touched over the course of her life. Amy was predeceased by her father, Gerald in March of 2018.