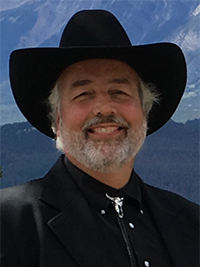 Andie Löffelbein
Passed Away
August 6, 2021
Andie Löffelbein, 58, passed away on August 6, 2021 beside the "absolute love of his life" of 28 years, Charlotte. Exactly the way he always wanted it. His spirit is carried on by his three amazing sons; Chris, Dan and Travis. Andie also leaves behind his parents; Sieg and Kathy; three siblings; many extended family members and an allegiance of marvellous friends.
Andie will be remembered most for his funny stories and experiences, his laugh, his loyalty, his immaculate garage and his incredible devotion to Charlotte. He did everything for her.
Andie's fondness of old westerns was only surpassed by his love affair of building a great fire for "heat AND light", chicken done anyway, making everyone around him laugh uncontrollably, and the colour black. He could repair almost anything and made notes of everything he fixed for the owners for future reference. If any of you are missing said notes, call Charlotte……..later. Music was very important to Andie. He loved all music from outlaw country to opera, metal and 70's classics. Johnny, Waylon and Clint adorn the walls of "his little garage". He was born 150 years too late. There was very little grey in his life, it was black or white. Andie loved the idea of a simple life of days gone by. He despised liars, cheats and takers as well as squirrels, bread pudding, clocks that chime, Kraft dinner, and every reality show ever made. Andie took great pride in his yard-his little piece of heaven, being organized so you could "find anything when you needed it", and everything must work and work well. Andie will be unimaginably missed and most undoubtedly never forgotten.
Following his wishes and fully supported by the family that loved him, there will not be a service and cremation has taken place. Everyone who remembers him is asked to celebrate Andie's life in their own small way. Raising a glass of their favourite drink in his memory would be quite fitting, perhaps to a song that reminds you of him or one that you knew he loved.
"He stopped loving her today" George Jones