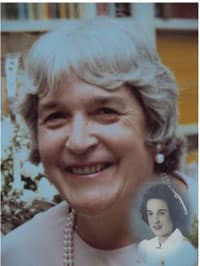 Ann Emily Ray (nee Leinweber)
August 7, 1919
-
January 12, 2021
Mother passed away peacefully at St. Joseph's Auxiliary Hospital in Edmonton on January 12 2021 at the age of 101.  She will be remembered by: her four sons Charles (Karen Saylor-Ray) of Edmonton and their daughters Julia (Gregory) Vandemark of Vancouver and Elizabeth (Damien) Saul of Peru; John of Vancouver; Henry (Donna) of Edmonton and their sons Matthew (Carolina), Ian (Brittany), and Patrick (Danielle); and David (Margie) and their daughter Christine (Jordan) Ray of Los Angeles and son Michael (engaged to Erkuden Urdaci) of Spain.  She will also be remembered by her great grandchildren of Edmonton: Thomas of Matthew (Carolina); Brooklyn and Boston of Ian (Britanny); and Caleb and Emily of Patrick (Danielle).
Our Mother was determined, talented and caring, and could on occasion be a bit of a crusty sort. Those characteristics resonate throughout her life's history.
Our Mother was born and raised in North Battleford Saskatchewan as an only child. Her two siblings died shortly after birth and as a stillborn.  In her early years she became an accomplished swimmer and piano player – she finished her academic piano years as a grade twelve graduate from the Toronto Royal Conservatory of Music.  Rumour has it that she was the "life of the party" in North Battleford social circles as she loved to dance and play piano.  Actually it was not a rumour…her eldest Charles…heard first hand from some of her French contemporaries in Delmas Saskatchewan that she was the life of the party – she had that joie de vivre.  After High School Mother obtained a business secretarial certificate in Prince  Albert Saskatchewan where she briefly worked as a business secretary.  She went on to earn her RN with distinction at the Winnipeg Misercordia Hospital in 1944.  She married our Father Harry – a CPR railroad agent in 1945.  From 1945 until the early 70's they railroaded through Southern Saskatchewan  (Gull Lake, Compeer, Richmound, Pennant, and Climax), Southern Alberta (Vulcan and Medicine Hat) and Central Alberta (Penhold, Clandonald, Millet, Olds and Edmonton).  Our Mother and Father finally decided that Edmonton was their last move as they arrived in 1966.  Each move was seen as an opportunity to move to a locale with better schools and amenities.
There were many challenges and accomplishments during those railroading and following years. Since the Ray family brood, comprised of four boys (born 1946, 1947, 1955 and 1960), lived just yards away from the railroad tracks it took a great deal of effort on Mother's part to be vigilant that none of the boys came into harm's way.  In many of the small towns Ann practiced unpaid nursing medicine such as, alleviating the fever and pain associated with the polio epidemic of the 1950's, sewing and bandaging wounds, assisting with childbirth, giving medical advice and even family violence intervention.  Several children in those small towns received elementary music lessons from Mrs. Ray. In 1964/65 She wrote the Alberta RN exams to formally nurse in Alberta. Subsequently she went on to nurse at the Medicine Hat Hospital for a short term then cared  for veterans and paraplegics at the Aberhart Hospital on the U. of A. campus Edmonton for many years.  She worked until she was 72.
Although she never spoke too often of it the boys have surmised that one of her greatest mental and physical challenges was moving from her birthplace the well developed small city of North Battleford that provided modern amenities of  running water, flush toilets and bathtubs, electricity and gas to small Saskatchewan and Alberta towns that provided only hand pumped water, outdoor toilets/carry out slop buckets, kerosene lighting and coal fueled furnace and stoves – her first laundry day "in the sticks" must have been a nightmare and perhaps that diminished somewhat her joie de vivre.
Although Mom was never one to dwell too much on touch feely kind of things she balanced things out by helping in other ways that she could.  She provided substantial dollars towards house and apartment projects, vacations, etc.  All dollars were welcomed and appreciated.  As a kudo to us the sons and wives we did return her largesse by house maintenance and repairs – particularly in the later years.
She spent her retirement years volunteering, playing piano, reading newspapers and occasionally swimming.  The Catholic Women's League honoured her with a 60 year pin for her volunteer work within the league.  She played the old tunes for many years on a weekly basis for veterans and the disabled at the Veteran's Hospital. Whether it was by a lake or on the veranda at home she loved to read outside until dark keeping abreast of politics at all levels. Mother and Dad trailered out to many lakes close to Edmonton where she could indulge in her swimming passion.  One of her greatest pleasures was playing the piano at most family gatherings at Christmas, Easter and so on.  After Father passed away in 2009 Mom moved to Garneau Hall shortly thereafter.  There she continued to play the old tunes by memory for fellow residents even until she was 97.
In early 2017 Mom lost mobility and became confined to a wheelchair and to nursing care at the University Hospital, the Good Samaritan at Southgate and, finally St. Joseph's Auxiliary Hospital in South Edmonton. Her talented hands and mind are now still but not forgotten.
Funeral services will be held at St. Albert Catholic Church on January 23, 2021 at 1:30 p.m. AM.  Interment to follow in the St. Albert Cemetery on the hill.
Rest in peace Mom.