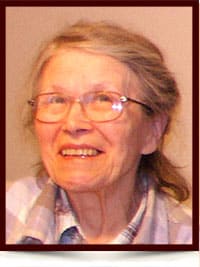 Ann Johanson
On October 20, Ann Johanson of Edmonton passed away at the age of 91. She is finally free of the pain of illness and the cruelty of dementia.
She was raised in Peace River country on a farm which instilled a strong work ethic in her. She left home as a teenager to find work and spent time in Fort Smith, Edmonton and Valemount, BC where she met her former husband, William (Bill) Osadchuk. Together they worked to build a logging company. Ann was an excellent cook and baker and spent many years making meals in the mountain camps. She eventually left Valemount to provide better education opportunities for her children in Edmonton. But she continued to return to Valemount for many years to help with the business. Once her children grew older, she went back to cooking for a living full time.
In her later years, because of her love of children and desire to help people, she then became a foster parent. She was a true pioneer woman, strong and independent and not afraid of hard work.
Ann is survived by her children Sharon, William(Colleen), Pamela(Jack), Valerie(Steve), Karoll(Cory), Nicole(Al) and Kirk, 9 grandchildren, 2 great grandchildren as well as sisters Mary and Chris and numerous nieces and nephews. She was predeceased by sister Mabel, niece Helen, nephew Greg and brother Tom.
Many thanks go out to the wonderful 2nd floor staff of St Michael's Long Term Care Centre. The kindness and caring shown to our mother during her 8 year stay was very appreciated.
A private family memorial will be held at a later date.