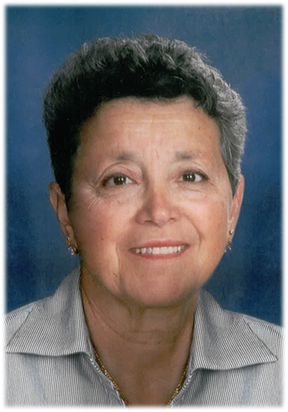 Anna Richer (nee Marrazzo)
February 6, 1947
-
January 16, 2022
It is with great sadness and much love that we announce the passing of Anna Richer (nee Marrazzo), beloved wife, mother, daughter, sister and friend on January 16, 2022 at 74 years of age.
Anna was predeceased by her Mother Rosina, Father Carmine, Brothers Giustino, Pasquale, Pietro, Riccardo, Sister Maria Spadafora, Twins Anna and Tony, Daughter in Law Carmela D'Andrea and many more relatives and friends.
She is lovingly remembered by her devoted husband, Gerry Richer and sister Barbara Mosele, her children, Vittorio D'Andrea and Gianni (Mary) D'Andrea, Nicole (Kelly) Onusko, Robert Richer, Brad (Carole) Richer, and Grandchildren Stefania, Neve, Brenden, Alessandro, Luke & Bryce as well as a multitude of relatives and friends.
Anna was born on February 6, 1947 in Piane Crati, Italy. She immigrated to Canada with her mother Rosina and sister Barbara and arrived in Halifax in 1955. The family settled in Edmonton Alberta and went about the process of making a life for them far removed from their humble beginnings in Southern Italy. Anna graduated from St. Joseph HS and began a career in Banking. She then took on a role as School Secretary for several schools with the Edmonton Catholic and Public School Boards so she could spend her summers with her 2 boys. Gianni & Vittorio were her pride and joy and she spent many years accompanying them to soccer fields and ice rinks across Edmonton, Alberta and Canada. All of the teammates of her boys loved their 2 nd Mom and continue to rave about her to this day. In 2003, she married her soul mate Gerry. After convincing Anna to retire early, together they traveled North America and thoroughly enjoyed each other's company as well as the company of many friends they met on their adventures.
All who met her revered Anna. Always smiling with a positive attitude, she was a pure joy to be around. As she was the youngest of her siblings by quite a number of years she had several nieces and nephews who were close to her in age. Anna was loved by all her nieces and nephews, she was the cool "Zia" that's for sure. She has left an indelible mark on all those who knew her and will be dearly missed.
Special thanks to the amazing staff of Shepherd's Care at Kensington who cared for Anna for the last 5 years.
A private viewing and Funeral will be held for Family by Invitation only.
To view the service Tuesday January 25, 2022 at 10:00AM via livestream, please click the following link:
https://vimeo.com/669059904/c10ea73ca2
A Celebration of Life will be planned for Spring 2022. In lieu of flowers, please feel free to make a contribution to Shepherd's Care Kensington Village (www.shepherdscare.org)