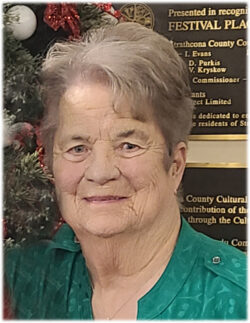 Anne "Annie" Jean Bonneville
May 30, 1940
-
March 18, 2023
It is with great sadness and heavy hearts that we announce the passing of Anne "Annie" Jean Bonneville, loving wife, mother and grandmother on March 18th, 2023, at the age of 82 years.
Anne was born in Clandonald, Alberta to Irish immigrants, Thomas and Margaret Conlon. Anne's mom passed away when Anne was 6 months old and she was raised on the family homestead, by her dad until the age of eight when he passed away. Anne's sister Lily, raised Anne and her sister Mary and brother Thomas for one year on the homestead. At that time Anne, Mary and Thomas were placed in the convent in the town of Clandonald. This is where she lived and attended school. When Anne reached 18yrs old, she left the convent and moved to Vermillion, AB, where she then lived with her sister Lily and brother Thomas. Anne worked as a Nurse's Aid, in the Vermillion Hospital for a few years. In 1960, Anne and her sister Lily moved to Edmonton together and Anne worked as a waitress for a couple of years. A job she truly enjoyed.
In 1962, she met her husband Lawrence Bonneville and was married on Aug 10, 1963. After marriage they had three children, Gerald, Ray and Nicole. Anne chose to stay home and raise her children. Becoming the most amazing "Homemaker." Always being there for her children, being the solid foundation they needed growing up. After all three children had graduated from school and began working, Anne chose to return to work as well. In 2000, Anne worked at Westbrook Pizza. Anne and her daughter Nicole worked as Ushers at the Edmonton Trappers from 2002 - 2005. Anne worked as a lunchroom supervisor at Greenfield Elementary School from 2003 -2009. Anne loved and cherished her time with the children and made a few good friends along the way; Anita, Margaret and Trish.
Anne loved to travel and spend time with family and friends. Anne and her best friend, vacationed in Kelowna BC for a month in 2001. Anne and her sister's Mary, Isabel, Josie and her niece Cathy traveled to Ireland on a tour for 10 days, in 2004. Anne loved spending time in Daysland with her sister Mary and family. Anne and Nicole toured the RCMP Depot in Sask and then continued on driving to Niagara Falls. Anne loved spending summers at Red Deer lake with her family and sisters, Lily, Molly, Josie and Isable and the Schneider family. Anne loved a good card game. Anne was one of the Biggest Edmonton Oiler fans from the beginning. Everything was Oilers and she never missed a game and was fortunate enough to meet some of the players over the years. Anne loved all animals, especially dogs and cats. She loved the time she spent with her children's cats and dogs. They all brought joy to her life. Anne loved to knit and crochet. She made quilts for her children and blankets and dish cloths for friends. Anne loved to bake and cook for her family. Every Christmas there would be a freezer full of sweets. Anne loved flowers and springtime planting flowers around the house. Anne loved attending concerts and was blessed to become friends with Patricia Conroy and Michelle Wright.
Her memory will be cherished and live on in the lives of her husband, Lawrence, her children, Gerald (Deb), Ray and Nicole and her grandson Cody and granddaughter Lacey. And her numerous nieces, nephews, in-laws and friends.
Anne was predeceased by her parent's Thomas and Margaret Conlon; brother's Thomas, Patrick, her sisters, Lily, Joey, Isabel, Molly.
A prayer service will be held on March 27th, at 6pm at Trinity Funeral Home 10530 - 116 St, Edmonton, AB.
The Funeral Service will be held on March 28th at 11am at St Thomas More Parish, 210 Haddow Close. Followed by Interment at Our Lady of Peace Cemetery, 4814 Meridian Street, Edmonton.