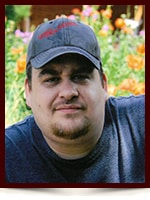 Anthony William Peek
January 8, 1981 to July 19, 2017
With devastating sorrow and broken hearts we wish to share the news of our beloved Son, Brother and Uncle's sudden death due to heart failure.
No words can describe how much he will be missed by his parents Tony and Debbie Peek, Brothers Andrew (Rachelle) Nephew Tyson, Alex (Rosie),  Grandmother Colleen Miller, numerous Aunts, Uncles, Cousins and Friends.
Anthony is predeceased by his Great Grandparents, Richard and Helen Karse, Grandparents William and Mary Peek, Uncle Simon Peek, Aunt Wilhelmina Sherring, Aunt Shirley Mooney, Cousins Paul Mooney and Natalie Peek.
Anthony was born with great longing and such joy.  He lived his whole life in the same home in Edmonton, Alberta.  He went to school at St. Bonaventure, Elizabeth Seton, St. Francis and St. Joseph's High School's.  As a child he enjoyed playing baseball and hockey.  He gave up hockey to fulfill his passion for music playing the saxophone and drums as a member of The Edmonton Sabres Marching Band.  The band was in many parades and did a number of tours during his membership.
Anthony always enjoyed his family vacations which took him to lakes, mountains, oceans.  He traveled to B.C., the Yukon, Mexico, Alaska and a few other States.
He loved science, video games, World of Warcraft, Superman, he was a huge fan of Walking Dead, Game of Thrones, Star Wars and Ancient Aliens.  He loved working on his computer, adding parts to make it the fastest and the best. He loved babies and animals.  Angel his Pomeranian was his best friend and companion. He lost her in September and was never the same.   He loved his nephew Tyson and was always amazed at everything new Tyson was doing.
In Junior High he worked for the Examiner and then the Edmonton Sun delivering flyers and the newspaper.  In high school he obtained jobs with Dairy Queen, Arby's and IGA.  He worked in the bakery at IGA and considered pursuing a career in Culinary Arts. He was a great cook and did most of the cooking at home for us.
Much to his demise he chose to apprentice in Sheet Metal.  At the age of 20 he had a serious work related accident which left him with severe limitations and decreased mobility.  Life became challenging battling depression and severe anxiety.
You have escaped the cage Anthony, your wings are stretched out, now fly………..
Celebration of Life
10:00AM August 17, 2017
Trinity Funeral Home
10530-116 Street Edmonton, AB