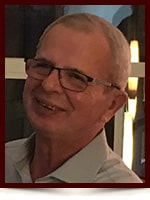 Antoni (Tony) Jastrzebski
On May 28, 2016 Antoni (Tony) Jastrzebski passed away at the age of 70. Tony leaves to mourn: his loving wife Grazyna (Grace), two sons: Robert (Maya) and Arthur (Beth) Jastrzebski, grandchildren: Shae-Lynn, Lauren, Sebastian and Julia Jastrzebski, Dreena and Doran Payment, sister Janina Borawska who is still living in Poland, as well as many nieces nephews and extended family. Tony was predeceased by his two brothers: Marian and Josef Jastrzebski.  Tony was a devoted husband, father and grandfather.  Extremely hardworking, he served Syncrude for 30 years in Fort MacMurray.  Once he was able to enjoy his retirement, he took great pleasure in travelling with his wife, Grayna and was looking forward to settling into the new home he was building in Biczyce, Dolne, Poland, being reunited with extended family there.
Public Visitation
Friday June 3, 7:00 - 8:30PM
Trinity Funeral Home
10530 116 Street, Edmonton
Prayer Service
Friday June 3, 8:00PM
Trinity Funeral Home
10530 116 Street, Edmonton
Mass of Christian Burial
Saturday June 4, 10:00AM
Holy Rosary Catholic Parish
11485 106 St NW, Edmonton.