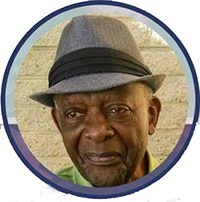 Arnold Ayodele George
In Loving Memory of our dear husband, father, brother, uncle, cousin and grandfather. We regret to announce the death of Mr Arnold Ayodele George, who passed away on August 6th 2019 at a ripeful age of 89 years.
He is survived by his wife Mrs. Pamela George, (children) Clarence. Ayodele. Samuel. Arnolda and Ekundayo. (son-in-law) John Lyons, (daughter's-in-law) Augusta and Elizabeth, (grand children) Kadelia. Liam. Princess. Adele. Ayodele (jnr) and Pamela, (brothers) Ina and Isaac as well as several nieces and nephews along
with relatives at home and abroad including George Hanson. Iron-Side William. Hunter and Wilkinson.
Funeral Service will be held at St. Peters Anglican Church
11035 127 Street Edmonton, Alberta
Thursday, August 29th 2019
Viewing: 10:00am
Service: 11:00am