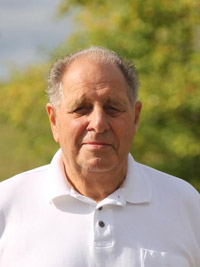 Arthur (Art) De Lint
On September 10, 2020, Our loving Husband, Father, and Poppy Arthur (Art) De Lint at the age 82 in the city of Edmonton, Alberta, passed away and went home to Heaven to live with his Lord and Savior Jesus Christ.
Art was born Adrianus Nicolass De Lint on March 26, 1938 on the island of Sumatra, in the town of TangJong Karan, Indonesia to two very proud parents. He lived there in his loving home until the age of 4 (1942) when World War II infiltrated his world and forever changed the path of his life. He was taken as a Prisoner of War by the Japanese invading army to the first of several concentration camps with charges of him and his family being British spies. During the years he spent in these camps he suffered the loss of his "Pa" and Uncle and was liberated from the camp on May 10, 1945 by the Dutch and American Armies liberating Indonesia. He and his Ma were taken to Malaysia to physically recover from their experience and while recovering he had to learn to walk again due to weakness from lack of food. He knew that throughout this time his Ma did everything she could to protect him and keep him safe. One joyful memory that he had from that time he shared often was while on his journey to Holland he had the pleasure of being on the American passenger ship the M.V.Llangibby Castle for Christmas in 1945. The American Soldiers hosted a Christmas party for all the Children on board. During their time in the camp he came to meet his future Stepdad Bartlett, Stepbrother Bart and Stepsister Annalene. His Ma lost her husband and his Stepdad had lost his wife in the camp and felt that it would be easier to raise their children together so they married. 
In 1957, at the age of 19, he decided to take on a new adventure and immigrate to Canada. Landing in Toronto he stayed with friends from Holland and started a job at a Tobacco farm. There were many days he would walk Yonge Street in search of better employment opportunities. 
During his time in Toronto he would go to the Oregon restaurant every night for supper and in 1958, he met and fell in love with a waitress at the restaurant. This waitress became his treasured and loving wife, Betty. For 58 years they built a wonderful life, home and family together that led to many more adventures. 
Betty, being a good ole Newfie girl, took her love home with her to Newfoundland and they first settled on Woody Island, an outport settlement with little of the comforts we know today. While living there they had their first beloved child Shelley. A couple years later they moved to North Harbour, where bouncing baby girl number 2 came along, Tina. They made another move 2 years later to Swift Current and along came the long-awaited boy, Rodney. As work dried up on the island in 1976, the family left the island and moved to Labrador City.  Baby number 4 was on the horizon and the hope was for another boy. Baby Girl number 3 came into the world and Art was officially outnumbered again with his 3rd daughter, Lorna. 
In 1981, work was again drying up and for the sake of the family's wellbeing it was decided to move the family out west to Fort McMurray, Alberta.  This is where he continued his career as a Heavy-Duty Mechanic with Syncrude. At Syncrude, Art worked on Team 3 and got to play with big toys. Spending many hours on cold shop floors fixing D10's and other mine equipment. He loved his profession and his beautiful blue eyes would light up with excitement as he talked about the various equipment around the mine. 
At 55 years of age, Syncrude offered early retirement packages and Art and Betty decided to take it and move to Edmonton, in 1997. Not being ready to be done work, he continued to work as a contractor in Fort McMurray and chose to commute back and forth. Unfortunately, heart issues came about a few years later and caused him to slow down and retire for good. Other health issues ensued in later years with the development of COPD, hip issues, and Diabetes. 
Through these years, Art's kids went on to marry and brought him great joy with 12 Grandchildren. Art touched many lives along the way with his gentle demeanor, his kind words of wisdom, his listening ear (with the help of hearing aids), and his great love and joy for life. 
Art loved spending time with his large and loud family. It brought him great joy when they could all be together for birthdays, holidays, Christmas parties, summer-time picnics in the park and any other family gatherings where he could quietly observe the interactions and actively participate in the joy and laughter. 
Art also loved spending time with friends over coffee, time at church with his church family, participating in Men's Fellowship, Bible Study, etc… He touched many lives and always left a lasting impression with everyone he met. He made friends with the children in the neighbourhood as he sat on the porch and watched the joy of them playing. Offer words of advice or some friendly conversation to whoever passed by. 
Art was predeceased by his Father (Pa), Adriannus and his Mother (Ma) Pieternella, his step-father (Bartlett), his Father-in- Law Joshua Barrett, Mother-in-Law Doris Barrett and Sister-in-Law Myrtle Eddy, Stepsister Annalene (Tom) and Nephew Danny Eddy – who was more like a son than a nephew,  and spoke often about many more Aunts and Uncles.
Art leaves behind his loving and devoted wife, Betty, of 55 years; his four children, their spouses and children: Shelley Holden (James, Melissa & their father Kevin), Tina and Mike Foster (Alexander, Miles, Victor & Joshua) Rod and Coralee (Jones) Delint (Kyle, Brianna, Ashley, their mother Michelle, Cassandra); Lorna and Blair King  (Adrianna & Alyssa). He was just a few weeks away from welcoming his first great grandchild (from his grandson James & fiancée Ashley). Art also leaves behind his stepbrother Bart (Els) in Germany, Brother-in-law Walter Eddy (Ivy), his nephew Dwayne and niece Brenda (Colin, Logan, Grace). Aunts Grace Langdon, Marion Jeans and Rose Peyton and many cousins and friends here in Canada and in Holland.
The family would like to thank Edmonton EMS, Edmonton Fire Department and the Staff at the Emergency Room of the Sturgeon General Hospital in St. Albert for all their efforts prior to his passing.
A Celebration of Life will be held Tuesday, Sept 15, 2020,  at 2:00pm at Northwest Pentecostal Church, located at 9949 169 Avenue, Edmonton.
In lieu of flowers, the family request you make donations to the Heart and Stroke Foundation, Alberta Lung Association, or Alberta Diabetes Foundation.