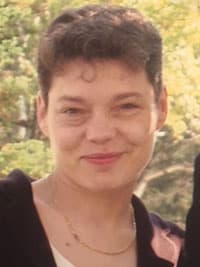 Astrid Helen Walrabenstein
Astrid Helen Walrabenstein, 51
Astrid Helen Walrabenstein, passed away peacefully on December 13, 2018 at her care facility, Capital Care Dickensfield in Edmonton, Alberta. Astrid was born in Ede, The Netherlands on January 12, 1967 to the late Jan Walrabenstein and Marijke Walrabenstein ( Uli Klaeui).
Astrid is survived and lovingly remembered by her sister Merel Jarvis (Walrabenstein), brother in law Ken Jarvis, Nephew Brennon Jarvis and Niece Sophia Jarvis, several aunts, uncles and cousins in the Netherlands and all that were fortunate to know her.
Astrid came to Canada with her parents and sister in 1974 and settled in the Edmonton area. Early in life Astrid became a brain injury survivor who was fierce and passionate about remaining independent in her life. Astrid was fortunate to live abroad in Heidelberg, Germany for a period of time as well as travel to the Netherlands, France, Hungary, as well as various places in Canada. Astrid's smile was infectious and remembered by all that knew her. Astrid enjoyed visits with family and a rousing game of cards at the best of times.
An intimate celebration of life will be held in January 2019 to commemorate Astrid's life. In lieu of flowers donations can be made to the Capital Care Foundation (www.capitalcarefoundation.net). Special thanks go out to the staff at Capital Care Dickensfield for their kindness, compassion and love they showed Astrid during the years she lived there.