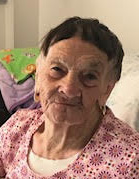 Augusta Da Silva Mota
January 12, 1928
-
February 23, 2022
It is with profound sadness that the family of Augusta da Silva Mota announce her passing on February 23, 2022, one month after celebrating her 94th birthday.
Augusta was born on January 12, 1928, as 1 of 12 children to parents Matias Mota and Carolina da Silva in Cerdeira, Vila Nova de Paiva, Viseu, Portugal. She married the love of her life Jose da Costa and had four daughters and one son. Sadly, her husband Jose died at a young age in 1962. Augusta then moved and lived the rest of her life in Edmonton, Alberta, Canada at the age of 48.
Augusta was incredibly proud of the fact she lived independently in her apartment for over 30 years. She loved her plants, the many photos of her family, and traveling on Edmonton's buses and LRT (train) as she fondly bought her weekly groceries. She especially loved hosting her family at her home by making everyone around her feel special and well fed. Augusta's kind and gentle love has touched the hearts of many spanning from her home country of Portugal to across the ocean to Tennessee, USA and Western Canada.
Augusta is survived by her children, Eulalia, Carols (Carminda), Fatima (Joao), Maria Rosa (Higino), and Irene (Al); grandchildren, Charles, Richard, Sara, Jorge, Paulo (Sousa), Cory, Denis, Paulo (Costa), Gina, Steven, Ashley, and Daniel; great-grandchildren, Adrianne, Jessica, Ivan, Chase, Miguel, Diogo, Carmella, Adelia, Phoenix, Emanuella, Gino, Simon, Dominique, and Akili; great-great grandchildren, JaKoby, Danika, Ezra, Asher, and Ivy Lou. As well as her sister Irondina, many nieces, nephews and extended family throughout the world.
Augusta's Mass of Christian Burial will be held on Tuesday, March 1, 2022 at 10:00 a.m. at Our Lady of Fatima Catholic Church, 12311 55 St NW, Edmonton, AB followed by her burial at St. Michael's Cemetery at 13819 82 St NW.
The family requests that family and friends wear masks while attending the Mass of Christian Burial.