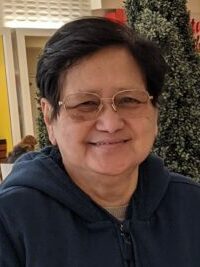 Aurora Macarayo Suarez
August 27, 1946
-
June 17, 2021
Aurora Macarayo Suarez joined our Creator in the early hours of June 17, 2021, in Edmonton, Alberta after 74 years of living vigorously. She reunites with her parents, Santos Sr. and Catalina Macarayo; her siblings, Loreta, Saturnina, Roman Sr., Santos Jr., Eduardo, and Rodrigo; and her husband, Ernesto Quiambao Suarez in eternal repose. She will be laid to rest beside her husband in Pampanga, Philippines.
Many mourn her, as her virtuous soul touched the lives of all whom she met, especially her daughters, Anne Concepcion and Annette Millan; her sons-in-law, Carlito Concepcion and Louel Millan; and her three little angels, Lian "Yani" Concepcion, and Angela Louise and Ella Millan. Let us all immortalize her not in grief but, instead, in the outpouring of care, affection, and grace that she bestowed upon us, tenfold.
A passionate teacher, a kindly sister, a loving wife, a devoted mother, a selfless grandmother, a steadfast friend, and a pious believer; now, a saint forever. Aurora was a woman who made the immense pain of her loss more than worth the blessing of her nonpareil love. Ever faithful, she was an influential member of the Apu Mamacalulu Shrine in Angeles as well as a eucharistic minister at St. Theresa's Parish in Edmonton. Although we can never again experience the artistry of her green thumb, seek her generous and wise mentorship, rush to the table for her delicious cooking, or scare her from around the corner and run, laughing, for our lives, we can take these warm memories and move forward with her in our hearts. The world may not be a better place without her, but she left it far better than she found it—for this, Aurora, we thank you deeply.
In loving memory of Aurora Macarayo Suarez; whose life was as precious and bold as a red, budding rose, and whose death testifies that the most beautiful flowers are picked first. May she find everlasting peace and joy in the Lord's vast gardens.