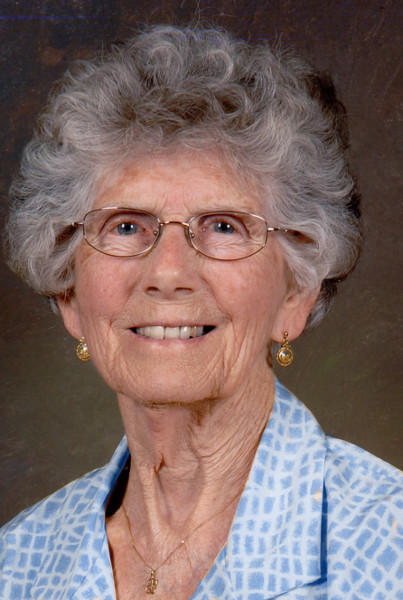 Barbara Alice Cable
CABLE, Barbara Alice (Ross)
1921 - 2018
On December 21, 2018, at the age of 97, Barbara Alice Cable (Ross) paddled off in her canoe to be with her dance partner in life, husband Cecil Reginald Cable (deceased 2006).
Born in Toronto, Ontario, to parents, John Leslie and Mabel Alzine (Irwin) Ross, Barbara came out west in her early twenties seeking adventure as a young teacher. Quickly becoming active in The YMCA So-Ed Club, Barbara found many lifelong friends, including her husband. Married in 1949, Barb and Cecil lived a full and adventurous life, including Barb's introduction to primitive camping at Lake Wabamun. Barb and Cec had 3 children by 1954 and Barbara began an active community life. Forever the organizer, Barbara became president of her local community league, rose up through the ranks of the Home and School Organization, becoming instrumental in the establishment of libraries in Alberta Schools and also served as a CGIT leader for many years. When Cecil took over the family business in 1969 Barbara continued her career as the business office manager and became Cecil's assistant when he conducted research as an electro-acoustical consultant. Barbara edited Cecil's numerous scientific papers and ultimately his theses for his Master's and Doctorate degrees. To better pursue Cecil's work, they moved to Southern California in 1977. Barb and Cec had 24 wonderful years there, with family and friends visiting often to enjoy the So-Cal ambiance including a backyard pool and multiple trips to Disneyland.
Barbara is lovingly remembered by her children Ross (Kim) Cable, Marilyn (Barry) Duguid and Pamela (John, deceased 2017) Bryan; by her grandchildren Gregory (Audrey) Duguid, Julia (Mike Slobogean) Duguid, Tara (Cory Parrill) Cable and Ashleigh (Kyle Mebs) Cable; great-grandchildren Zachary and Emma Duguid; step-granddaughter Pamela Stevens; step-great-granddaughter Alexys (Tom) Buckley and step-great-great-grandson and granddaughter Bennett and Brooklynne Buckley.
At her core, Barbara was a teacher, taking great pride in supporting and encouraging four grandchildren through post secondary education and always finding ways to encourage those around her to develop and grow into their best selves. Her clear blue eyes continue to implore us to follow our dreams and live with compassion, tolerance and grace.
The family extends a big thank you to the staff at Good Samaritan Southgate Care Centre for the loving care they provided Mom for the last four and a half years. Thanks also to the compassionate staff in 5E4 at the University of Alberta Hospital. Cremation has taken place and the family will hold a celebration of Barbara's life at a later date.