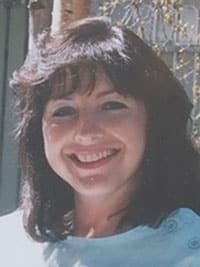 Barbara Diamond
On March 8, 2019 our beautiful, kind Barbara left our world peacefully at the age of 62, with her husband Myles by her side and her son Pierce on the phone with her.
Barb was born in Dublin, Ireland on October 8, 1956 and migrated with her family to Uranium City in 1959. They moved to Edmonton in 1960 where Barbara lived for the rest of her wonderful life. She is survived by her son Pierce, husband Myles, 3 sisters, many in-laws, cousins, nephews and nieces,  many amazing friends, and her very special Shasta.
Barbara touched so many people with her kindness, generosity, zest, strength and her infectious smile and spirit.  She was an amazing woman; beautiful vivacious kind yet feisty.  She had a very special blend of kindness, joy for life and toughness.  Barb was an incredible wife and a terrific mother.  She was selfless and giving, putting her family and friends first.  She was her husband's and son's rock - always there for them; loving, supporting, guiding and teaching.
Some of the joys in her life were the crazy girls' dinner club, time with her friends and family, travelling and wine.  She always loved having company  and hosting special occasion dinners.
She made our house a home and made everyone feel welcomed and loved.
Barb's gorgeous, larger than life smile was surpassed only by her overflowing heart.  She loved big and openly and always fought for what she believed  with incredible tenacity.  She loved her bling, yet was happy with the simple things in life.  She always helped anyone in need and was forever a champion for the underdogs in life.
Barbara, we will forever miss your joy, beauty, energy, generosity and kindness.  In Honour of Barb's life and her passion for hosting, her son and husband will host a celebration of her life in late spring or early summer, the date to be announced.
We thank her cousin Patricia and great friends Natasha, Donna and Joanne for all the extra support and help during Barbara's courageous final fight.
Barbara, thank you my love, for fighting so hard and long to give me, Pierce and all those you touched, more precious time with you.  Your fight through the pain was a testament to your strength and courage.
We were blessed to be loved by you, a true angel on earth.
Barb loved children and all animals.  We ask that if so inclined, donations in her name be made to the Edmonton Humane Society, in lieu of flowers.