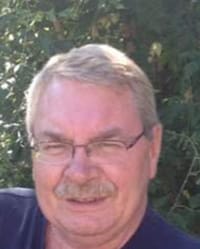 Barry Howard Haggerty
Barry Haggerty, age 69, died peacefully on May 14 in Edmonton , after a courageous battle with pancreatic cancer.
He was born April 29, 1950 in New Glasgow, Nova Scotia to Cecil Haggerty and Stella Campbell (Nickerson).
He is survived by Richard Fry, 2 sons Jeff (Kari), Shawn (Tara), 4 grandchildren Makara, Maderyn, Colton and Tyson, siblings Lloyd (Judith), Lorraine MacNeil (Allison) and step brother Chris Almond.
He was pre-deceased by his beloved Mother, Father and step mother Margaret.
Barry was a devoted salesman for over 30 years in the flooring business in Edmonton.
His passion for what he did earned him countless friends and respect in the industry. He knew his craft well and loved what he did.
A private celebration of life will be held for close family and friends on June 1 in St. Albert, Alberta.