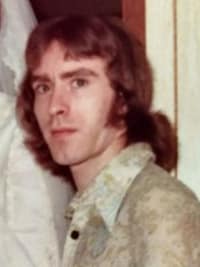 Benny Lloyd Brissaw
Benny was raised and spent most of his life in Edmonton, Alberta. He grew up under the open skies of Alberta on an acreage south of Edmonton. He attended Ellerslie Elementary and later moved into the city with his mother, younger sister and brother. He played the electric guitar very well and he performed in bands in Edmonton. He also loved the electric bass guitar. Benny's artistic flair was also expressed in his drawings and he was hired by graphic arts shops around the city designing business signs and posters. Although the arts were his passion, he also managed an apartment in the area.
Benny's last home was with Eldon and Jennifer Kallar and family where he was appreciated, loved and truly happy. Benny is also remembered by and survived by his sister, Linda (nee Brissaw) Turner and family, his aunt Lorna Greene and family, and is predeceased by parents Lloyd Brissaw of Strathmore, AB, Marion Nelson of Nanaimo, BC, and his brother Dale Brissaw of Edmonton, AB.
Donations in memory of Benny can be made to the Hope Mission in Edmonton.