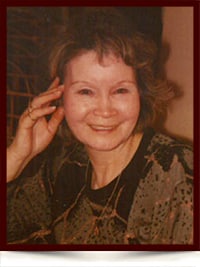 Bernadette Allard (Auger)
January 3rd, 1933 - October 12th, 2017
Born in Desmarais Alberta, our loving mother Bernadette passed away gently at the age of 84 years.
She was pre-deceased by her husband, Emilien, her parents Eustasis and Christy Auger, and by her 9 older sisters and 2 brothers. She's leaves 2 daughters, Beverly and Josette (Greg) and 2 sons, Emil and Real, to lovingly remember and cherish her.
Her memory will also remain strong in the hearts of her daughter-in-laws, Tami and Rita, and in the grandchildren she showered her love on - Chelsea, Christopher, Marcel, Robin, Jordyn, Kristy and Jesse.
Bernadette's ashes will be placed alongside her husband and family at a private family service in future.
A Celebration of her Life will be held at St. Edmunds Parish (13120 116th Street) Edmonton, Alberta on November 6th at 1:00pm.
Rest in Peace Nookum