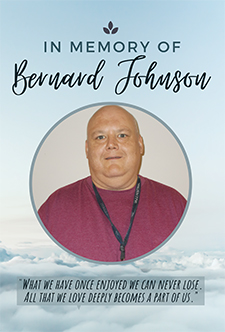 Bernard Andrew Johnson
Bernard Andrew Johnson, known to family and friends as "Bernie", passed away on October 14 at the age of 47 after battling cancer. He is survived by his mother Doreen Johnson, by his sisters Karen and Janet, and by his brothers Daren, Kevin, and Trevor.
Bernie is fondly remembered by family, and by all the staff and residents at the Sprucewood Place assisted living facility, for his smile and his often mischievous sense of humour. A bit of a prankster when he was younger, he was known also for his great kindness.
Bernie enjoyed reading and videogames, but also fishing, bike rides, and family trips to the mountains. An avid movie fan, he was fond of science fiction and action movies. He also relished a good burger and shake.
Bernie's cremation will take place on October 20 after a short viewing by family and close friends.
Donations can be made in Bernie's memory to the Schizophrenia Society of Alberta, the Canadian Lung Association, and the Canadian Cancer Society.