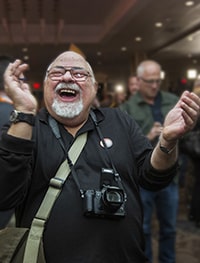 Bernard Bloom
Bernard Bloom, 79, of Edmonton, Alberta, passed away on May 26, 2020. He was known to friends and family as Bernie. Bernie lived his life out loud. Using words, photography and bicycles to propel him through life.
Bernie was born on December 30, 1940, to parents Max and Edith Bloom in Montreal, Quebec. He earned his BA in Political Science from Concordia University, and served in the Royal Canadian Air Force before moving to Alberta in 1963. He attended the Emma Lake Artists Workshop in 1975, and furthered his skills through the Visual Arts Advanced Studio Program at the Banff Centre (1983-1984). He took the Critical Writing Workshop at the University of Saskatchewan, and then earned his BFA with Distinction from the University of Calgary (1989), followed by his MFA from the University of Oklahoma at Norman (1993).
Bernie was full of creative drive. He was a life long writer and photographer, but his varied artistic output also included solo singing performances from John Cage's Songbooks at the Banff Centre in 1983, and a role in the Canadian feature film Birds of Prey. He delivered multiple public lectures, and his photographs and articles have appeared in Canadian, American and British publications. During his career he also covered local, national and international affairs for both print and broadcast media outlets.
For more than twelve years he taught at post-secondary institutions including the University of Oklahoma, the Casa de Cultura in Esteli, Nicaragua, and the Emily Carr College of Art and Design in Vancouver, BC. He was the Executive Director of the National Exhibition Centre in Castlegar, BC (1978-1983), and worked as the Gallery Manager of Latitude 53, the artist-run centre in Edmonton (1984-1986). He was an instructor in the Writing Program at the University of Alberta's Faculty of Extension (1999-2005) and a Tutor for Athabasca University's English Department (2001-2020).
Bernie mounted several solo and group exhibitions, including Wilderness at the Edmonton Art Gallery, Wilderness and Slide Journal at the Prince George Art Gallery in Prince George, BC, and Words and Pictures in Nicaragua at the Lightwell Gallery of the University of Oklahoma at Norman. His numerous group exhibitions included Visioning Palestine at the Pitt International Galleries in Vancouver, Topnotch at the Harcourt House Gallery in Edmonton, and The Sixth Annual Erotic Art Exhibit at the Paseo in Oklahoma City. His photographs dwell in the public collections of the University of Alberta Hospital, the Banff Centre for the Arts, and the University of Alberta. He won numerous awards for photography and writing.
Throughout his life, Bernie remained curious and interested in the world and the people in it. He remained engaged until the end, attending protests, supporting union activities, and attending community events. He left an impression throughout his adopted home town's coffee shops, bike shops, used book stores, and favourite library branches with his generosity, garrulousness, and big laugh. The city is a little quieter and much reduced without him in it.
Bernie is survived by son David, daughter Jennifer, brothers Marvin and Fred, numerous nieces and nephews, and beloved cat Bob.
A memorial service will be held on Thursday, June 4, 2020 at 10 am at Trinity Funeral Home, 10530 116 St NW. As per his wishes, an environmentally green burial will follow at Rosehill Cemetery, 1605 141 St. SW.
In memory of Bernie, friends and family are asked, when safe to do so, to take a bicycle ride, shoot a photo, and send a postcard to a friend.