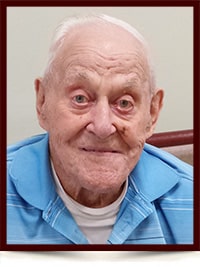 "Bert" Aage Larsen Borge 
October 22, 1919 – November 11, 2016
Our Uncle Bert passed away peacefully at Holyrood Extended Care with family and friends by his side.
Left to cherish their memories of a wonderful friend and uncle are his dear friends Norene (Gary) Coley, their daughters Holly and Jillian for whom Bert was "Grandpa", nieces Cheryl (Jim) Doty, Connie (Steve) Baehr, Laurie (Phil) Chartier, nephews Dennis (Donna) Tidball, Allen Larsen, sister-in-law Betty Larsen, and many great nieces and nephews and their families. Bert was predeceased by his sister Herdis Tidball and her husband Ruben, his sister Ella Tonizzo and her husband Mario, and his brother Svend Larsen.
An informal celebration of Uncle Bert's life will be held at the Reception Centre downstairs at the Trinity Funeral Home, 10530 – 116 St., Edmonton, AB, T5H 3L7 on Saturday, December 17th at 2PM. All are welcome.
Our family wishes to express appreciation to the staff with St. Albert homecare and to the staff at Holyrood Extended Care in Edmonton for the excellent care and support received.
In lieu of flowers donations may be made to a charity of one's choice.