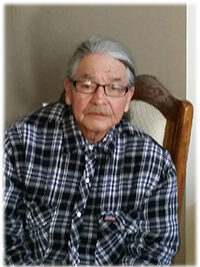 Billie Edward McDonald
March 2, 1948
-
June 18, 2021
It is with great sadness that we announce the passing of Billie Edward McDonald, 73, on Friday, June 18th at St. Joseph's Continuing Care.
He leaves behind his sister Judy Buck and her husband Bill, his brother Michael Frazer and his wife Joyce, many nieces, nephews and in-laws.
He was preceded in death by his mom and dad, James and Alice Frazer, five siblings, Vivien Frazer, Jim Frazer, Doreen Grey, Ron Cardinal and Dave Wickmann.
Billie was born on March 2, 1948 in Ft. McMurray and was fostered by two loving people, James and Alice Frazer. He had a terminal illness but was nurtured back to health and was raised as a healthy, caring, productive and skilled man who had a wicked sense of humour. He managed to maintain full employment until he retired at 65. He worked in fabricating, steelwork, mechanics, cabinet making and maintenance.
Billie loved music, playing pool (his nickname was Ace), motorcycles, making model cars and flannel shirts. He was a proud owner of a Rocket BSA 750, a VW bug and a bicycle named "Old Paint".
Billie's health declined upon retiring and he was diagnosed with early onset of dementia. He ended up in continuing care where the staff took great care of him right to the end. They all enjoyed his humour and said he made their jobs easy. We were very lucky to have him in our lives and will miss him terribly but are grateful he is now resting in peace.
A memorial service will be held at Mount Pleasant Cemetery on July 10th at 1:00 P.M.
In lieu of flowers, donations could be made to the Alzheimer's Society.