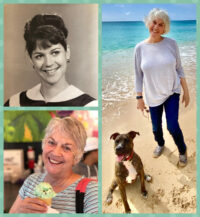 Bonnie Ruth Winn (BR)
January 13, 1948
-
May 13, 2021
With heavy hearts, we announce the passing of Bonnie Ruth (BR) Winn on May 13, 2021, in Spruce Grove, Alberta, after a courageous battle with leukemia. We are grateful to have had the blessing of granting her wish to be at home, surrounded by loved ones, giving her strength and support through smiles and song.
Bonnie (née Walters) was born on January 13, 1948 in Edmonton, Alberta and was lovingly raised by her mother Muriel (née Wright) and her stepfather Gordon Knowlton. Growing up, Bonnie was passionate about music, singing and dancing - and her feisty, outgoing spirit made her a natural on stage.
After graduating from Ross Sheppard High School, she juggled ballet class, band practices and books, attending the University of Alberta and receiving a combined Bachelor of Arts and Education degree. Following a few years of teaching junior high in the Edmonton area, Bonnie settled in the community of Spruce Grove, where she then taught for decades at Spruce Grove Composite High School.
Bonnie's life and gift for teaching allowed her to intertwine her heart with children and youth too numerous to count. From community and church classrooms, to music and drama productions, her spunk and sass made her an unforgettable influence on many.
Most of all, she will be remembered for her greatest work, the lessons she taught in her own home. Bonnie was a fiercely dedicated mother to her five children. Family came first and was above all else. Not without her own quiet and personal battles, she was kind and brave and her family was blessed to benefit from her ever constant thirst for knowledge and her unconditional love.
Bonnie will enjoy a happy and harmony filled reunion with those family members who have gone before her, particularly her parents. She is survived by her loving children, her four daughters - Lindsay (Glen) Eklund, Tricia (Nathan) Piepgrass, Sarah (Gordon) Marshall, Rachel Winn - and her one son TJ (Brittany) Winn. Also mourning her loss are her brother Ron (Liz) Knowlton, her sister Teddie (Mark) Fussell, her former husband Ted Winn, her many extended family members including cousins, nieces and nephews, and her cherished friends. Most importantly, "Grandma Boney" leaves behind a legacy of love with her 12 grandchildren, one great grandchild, and her grand puppies - all of which "love her most!"
We express our thanks to the many medical professionals and blood donors who have helped sustain her and make her life comfortable over these last several months. We pay special tribute to her youngest daughter, Rachel, who was her constant companion and caregiver throughout her illness - a priceless sacrifice that we will ever be grateful for.
Due to Covid restrictions and as per Bonnie's request, no formal service will be held. At a later date, a private family celebration of life will allow us to laugh and love together and remember the wonderful woman that she was. Until then, condolences, memories and photos are welcome and encouraged on her Facebook page so we can unite in reflection. Bonnie's family would like to suggest that, in lieu of flowers, a donation be made in her honor to the Leukemia and Lymphoma Society of Canada, the Canadian Blood Services, a local community theatre or music organization, or to an animal humane society of your choice.
For now, we smile as we think of the trouble our "spitfire" might be getting into, and with a song in our heart, we look forward to the day when we will be together again.