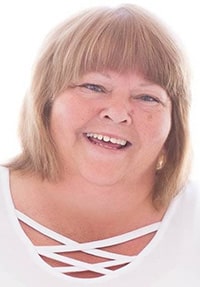 Brenda Christine Hodder
Brenda Christine Hodder, 60, of Marystown, Newfoundland passed away after a yearlong fight with cancer at Royal Alexandra Hospital in Edmonton, Alberta with her son, Jamie Harding and his wife by her side.
Born to Samuel and Elsie Hodder on December 21, 1958 in Burin, Newfoundland, Brenda was raised by her grandparents, Walter and Leah Hodder in Creston South.  She went on to raise two sons while working at Fishery Products International in Marystown for many years before finally splitting her time between enjoying quiet time at her home in Lumsden and working for Carey Industrial in Edmonton.
Brenda was a proud woman who loved to cook and entertain.  She cherished her time with family and friends, who were the center of her universe.  She believed that a successful life is defined by the children you raise and the family they eventually build.  She spent her final days reflecting on the blessings she had through her kids and grandkids, speaking with pride of the legacy she will leave through them.
Brenda leaves to mourn her partner, Roger Allain of Lumsden, Newfoundland; sons Jamie Harding (Ha Thi Khanh Nguyen) of Edmonton, Alberta and Darryl Harding (Ji Young Kang) of Kuala Lumpur, Malaysia; grandkids Aiden, Cian, Emily, and Evelyn; and a large circle of family and friends all across Canada.
Celebration of Life
Thursday August 22, 2019 2:00PM
Trinity Funeral Home
10530 116 Street, Edmonton AB