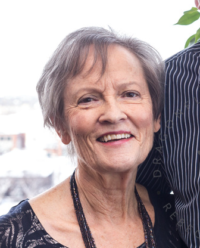 Brenda Lynn Powell
November 20, 1942
-
March 23, 2022
On March 23, the indomitable Brenda Powell decided she was done organizing us all and let go of this life.
Her husband Len will be literally lost without her. Even after dementia robbed them both of their vitality and bearings, she went on directing their lives and he, in his gentle, loving way, obliged, always a little in awe, like all of us, of her commanding spirit.
Her children and their spouses — Clint and Georgina, Fraser and Stacy, Kerry and Greg — are doing their best to live out and pass on Brenda's legacy of love, support, sarcasm and passion for big, beautiful meals prepared and shared with friends and family, including her grandchildren Erin (Christian), Joshua (Taylor), Haven, Lexy, Toryn, Rowan, Patrick, Luka, Micah and Arabella. Her siblings Vic (Linda) and Cheryl (Rod) like to imagine Brenda is now with their parents, Stuart and Thora, and brother Ronn.
Besides worrying, Brenda loved to put her energy into quilting, needlework, gardening and baking. She especially cherished her friendships with her University of Alberta Jan. '64 nursing classmates and UAH co-workers.
Join us at a celebration of her life on Saturday, April 23 at 1 p.m. at Riverside Golf Course in Edmonton. Messages are welcome at lbpowell65@gmail.com.