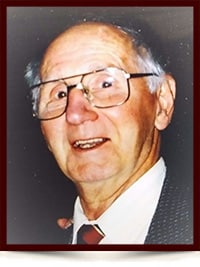 Brian Maldwyn Jones
Brian Jones passed away on December 2, 2017 at 88 years of age.  A coal miner's son from Newbridge, Wales, he brought song, sports and a love for the outdoors with him when he arrived in New Sarepta, Alberta in 1956. He eventually made his way to Edmonton, where he met and married Elaine Quilley. He started teaching in Edmonton at Highlands school, the start of a 35+ year career at EPSB.
Brian was a creative, dedicated and skilled educator who introduced media literacy to his students long before most people had a computer or digital camera in their homes. He spearheaded development of water polo and rugby at Bonnie Doon high school.  He ended his teaching career at Ross Sheppard high school.
He was proudly Welsh and delightedly shared his country's traditions with friends and family. He was co-founder of the Druids rugby team, active in the Welsh choir, a soccer coach, and a spellbinding weaver of tales of ghosts, pirates, pookas and life in "the old country." To help raise funds for the Lendrum Parent Advisory Committee, he appeared as hooded fortune teller who read many a Tarot card for curious neighbours at the annual community fair. Most fascinating for Brian was that he ended up coaching minor hockey, when as he reminded anyone who would listen, that the closest to ice he had ever been in Wales was when it was found "in my Scotch."
Brian also worked diligently on the Cardiac Athletic Society of Edmonton (CASE) to raise awareness about the need for cardiac care and organ donation in Alberta, and even petitioned the Minister of Health to be more active on this critical topic. Always on the go, he found the time to enthusiastically support his wife and children, Bronwen, Megan and Bryn, throughout many travels, adventures and life experiences.
He was generous, open minded and truly concerned for the welfare of others. As a result, he enjoyed rich and warm relations with the many people he interacted with throughout his life.