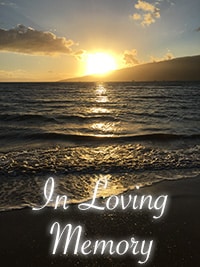 Brian Michael Hallonquist
May 17, 1955 – January 13, 2020
It is with heavy hearts our family announces the passing of Brian Michael Hallonquist on January 13, 2020.
Left to cherish his precious memory are his wife of 25 years Bernice, his dogs Charley and Sammy, his mother Rose Marie, 11 brothers and sisters, Linda (Pat), Marge (Andy), Robert (Linda), JoAnne, Greg (Sue), Larry, David (Jan), Sharon (Norm), Pat (Arlene), Jonathan, Tony (Michelle), numerous nieces and nephews and two godsons, Mark Hallonquist and Joshua Olson.
Brian was predeceased by his father Don, his sister Colleen and his dogs Barney and Taz.
He spent a number of years with Alberta Transportation, A.D. Williams Eng. and Lecor.  His interests were gardening and woodworking.  He loved spending time with his nieces, nephews and dogs.  He also enjoyed camping.
Our family would like to extend our deep appreciation for the care and compassion from the following: Dr. A. Pisani, Dr. E. Raff, Dr. L. Uniat and Dr. A. Ramadan, Strathcona County EMTs, staff at the RAH and RAH Renal Clinic and Capital Care Norwood.
Special thanks to Pet Therapy Society of Northern Alberta for their visits.
A private family service will be held at a later date.
In lieu of flowers, donations may be made in Brian's name to the SPCA.