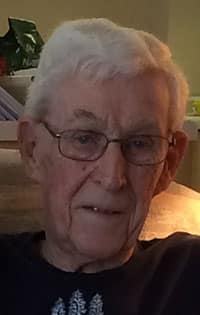 Brian (Richard) Robb
Brian (Richard) Robb passed away peacefully in his sleep at the age of 90 with his daughter Barb by his side on Dec.10, 2019. He followed the footsteps of his soulmate and wife of 69 years, Anne Robb, who predeceased him by 11 weeks.
His memory will be cherished by his daughters Bev (Joel) Klein, Barb (Kim) Robb, grandchildren Brian (Natasha) and Heather (Shawn), and great grandchildren Alyssa, Autumn and Archer. He is the last of his generation and predeceased by his siblings Dorothy Newson, Robert (Bob) Robb, and Lillian (Bunny) Hale.
Brian was a quiet person with a sharp sense of humour with puns and one liners. He had a love of books on every subject and a keen eye for working on model cars, consisting of a large collection over the years. He devoted his career to CN rail, which cultivated his love of trains, and then to CBC which took him to retirement years. Brian was well educated and still observant into his final days. He enjoyed traveling with his wife and spending winters in Tucson.
A cremation has taken place and Brian's wishes were to not have a service. His ashes will be spread with his wife's in the spring of 2020 in the gardens at a family grave location.
The family once again wishes to express their ongoing gratitude to the staff at Westview Continuing Care in Stony Plain for their kindness, care and support.
In lieu for flowers, donations can be made to the Heart and Stroke Foundation.
When Someone You Love Becomes a Memory,
The Memory Becomes A Treasure