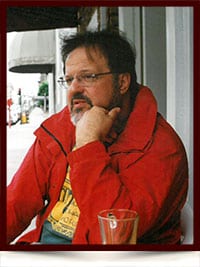 Brian Staszenski
June 1, 1951 - May 21, 2017
Brian was born in Winnipeg. His family moved to Prince Albert in 1962 and then to Edmonton in 1966 where he completed high school and university. In his youth, Brian loved football and played for the Edmonton Wildcats. He attended university in Edmonton and a year in Edinburgh. Since 1982 Brian has lived on a beautiful forested property on the North Saskatchewan River. There he continued his Baba's, Gigi's and parents' tradition of organic vegetable gardening. He loved his animals—dogs, cats and horses—and those animal companions gave him unconditional love in return. He was most at peace in his garden, on sojourns down to the river, and annual horseback treks into the mountains of the Willmore wilderness.
Advocacy for the environment and for a greener future was Brian's life work. In 2000, he was recognized as a "Hero of the Planet" by Time Magazine for his environmental activism. Time described Brian as a "radical in the best sense of the word" and captured his unique qualities as an activist: "a 48-year-old bear of a man brimming with can-do enthusiasm, will try almost anything to help push humanity toward a greener future," a description of Brian which still evokes knowing smiles.
Throughout his adult life, Brian was an inspirational leader in the environmental movement, contributing to many organizations locally and internationally. Most recently, he was enthusiastically promoting green building design and construction. His courage, love of life, humour, and his unwavering commitment to creating a better world are enduring legacies which will lovingly continue to nourish our memories of Brian.
Celebration of Brian's Life
1:00 pm - 4:00 pm Sunday June 18 2017
Old Timers Cabin
9430 Scona Rd NW, Edmonton, AB