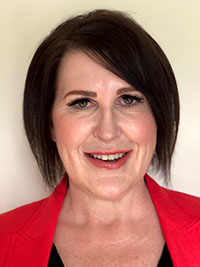 Bridget Ann Smith
It is with deep sadness that we announce the tragic death of Bridget Ann Picton on July 1, 2020.
Bridget was born on December 6, 1966 in the town of Haverfordwest in the County of Pembrokeshire, Wales, United Kingdom where she spent her childhood. She was the daughter of Barbara Fuller Morgan (Derrick) and David Picton (Hillary).
Bridget started her career as a Registered Nurse, receiving her diploma in 1988 from the West Glamorgan School of Nursing in Swansea, Wales. This was followed by a Diploma in Midwifery from Swansea University in 1997. Bridget worked for many years at the Withybush General Hospital in Haverfordwest, Wales. Early on, she began to move into leadership roles and gained extensive experience in geriatric care.
During this time in Wales, Bridget married William ("Billie") Holmes. They had two boys, Benjamin and Jacob. Later, Bridget met Geoffrey Smith, a member of the Canadian Armed Forces. Bridget moved to Canada and married Geoffrey in 2002, settling in Edmonton, Alberta. Her boys joined her there shortly thereafter, and in due time were adopted by Geoffrey. While in Edmonton, Bridget and Geoffrey had a daughter, Tegan, completing their family.
The family moved in 2004 to Kingston, Ontario where they remained for nine years. While in Kingston, Bridget continued working in health care, specializing in Geriatrics and Long Term Care, working in the community, as Director of Care at Extendicare Kingston, eventually becoming a Program Manager at St Mary's of the Lake Hospital. Bridget, Benjamin and Jacob also became Canadian citizens in 2011. When Geoffrey's career moved the family back to Edmonton in 2013, Bridget became the Program Manager for Labor & Delivery at the Grey Nuns Hospital. Later, she transferred to Alberta Health Services, becoming the Director of Critical Care at the Stollery Children's Hospital. At the time of her death, Bridget was the Acting Vice President of Quality for the Shepherd's Care Foundation.
In addition to her children (Benjamin, Jacob and Tegan), Bridget is survived by both parents and their spouses, her three brothers (Jeremy Picton, Oliver Morgan, David-Jon Picton), her sister (Claire Louise Dawes) and her current partner Aaron Gow. Her in-law parents Christine and Barry Smith, who considered her as their own daughter, dearly loved Bridget. She will be greatly missed by her extended family-through-marriage in Canada, especially her sister-in-law, Lyndsey Bonnelly.
Bridget was known for her sense of fun and style, and her wicked sense of humour. As a health care professional, she was a leader and mentor with high standards and boundless compassion. She was a bright light at any gathering, and loved playing hostess at parties and gatherings. She leaves behind many friends from across Canada to the United Kingdom who will miss the spark that she brought to everyone's lives.
A Celebration of Bridget's Life Gathering will be held on Friday, July 10, outdoors at Patricia Park in the Griesbach neighbourhood in north Edmonton, Alberta, starting at 1:00 pm MDT. Those who attend are asked to adhere to provincial social distancing rules, to bring their face masks or coverings, and will be required to sign in.
For the benefit of those who cannot attend in person, the Gathering will be live streamed, and in the event that that there are technical difficulties, it will also be recorded for later viewing. More details to follow in an event listing which will be shared on the Facebook page of Geoffrey Smith.
Flowers may be delivered to the Trinity Funeral Home at 10530-116 St. NW, Edmonton, Alberta, Canada (https://www.trinityfuneralhome.ca/). They will be displayed at the Celebration of Life Gathering.
Donations to the Canadian Mental Health Association (https://cmha.ca/) in Bridget's name are welcome.